Return to Headlines
CMSD welcomes seven new principals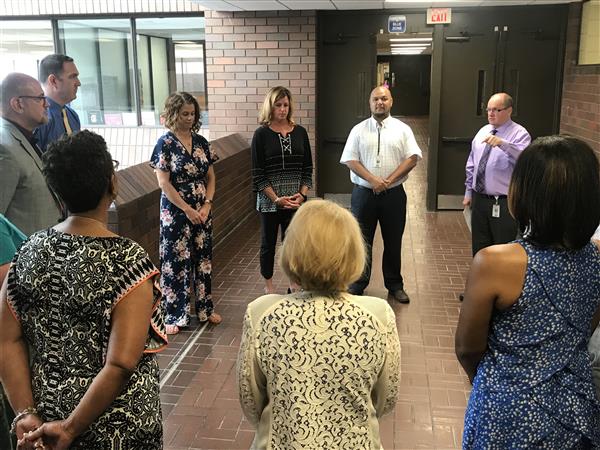 CEO Eric Gordon talks to new principals at orientation.
CMSD NEWS BUREAU
7/8/2019
CMSD has put extra emphasis on developing and supporting principals, and the attention has helped create stability in those key leadership positions.
Only eight of the District's 100-plus schools will have different principals at the start of the 2019-20 school year. In the past, that number would rise into the double digits.
"People are staying," CEO Eric Gordon said at an orientation for seven principals who are new to the job. "And they are trying to get in."
The first-time principals include:
Jacob Bosley, James A. Garfield School. Bosley spent the last year in the District's Aspiring Principals Academy and before that was a curriculum and instruction specialist at Case School.
Odell Brown, Cleveland School of Architecture and Design. Brown just graduated from the Aspiring Principals Academy and previously was a curriculum and instruction specialist at John Adams College and Career Academy.
Aderica Grier, Louisa May Alcott School. Grier was promoted from assistant principal at Louisa May Alcott.
Jessica Humphrey, Sunbeam School. Humphrey came to the District last year from Stepstone Academy, a charter school, to attend the Aspiring Principals Academy. She also had been a teacher in the Euclid schools.
Derek Patterson, Max S. Hayes High School. Patterson is another new graduate of the Aspiring Principals Academy and previously was an assistant principal at East Tech High School.
Samuel Román, Luis Muñoz Marin School. Román previously was a program manager in the District's Multilingual Multicultural Office.
Kristel Wilkins, Warner Girls' Leadership Academy. Wilkins formerly was an assistant principal at Hannah Gibbons School.
In addition, Christopher Scarcella, who had been principal at Max Hayes, has shifted to fill a vacancy at Design Lab Early College High School.
The Cleveland Plan places principals at the forefront of education reform in the District and gives their schools freedom to determine spending and determine curriculum.
The Aspiring Principals Academy was started six years ago to develop transformational leaders for schools, and its graduates now hold more than a fourth of the District's principal jobs.
The pipeline program provides a paid 11-month residency alongside a mentor principal. Last year, the 10 openings drew 300 applications, about half of those coming from outside the District.
Bosley said that during the Aspiring Principals Program, he learned more about himself as an instructional leader than he had in any previous schooling or administrative experience.
"The skills and experience developed throughout the program, coupled with the District's trust in principals to make positive, impactful change for our kids and their families, has given me purpose to call CMSD home," he said. "To work in an organization that is forward thinking, speaks of hope and always leads with kids' best interests in mind gives me the drive and determination to lead one of CMSD's remarkable schools."
Patterson said he became a principal because he views it as "the most effective position for bringing positive change to student lives and education." He said the Aspiring Principals Academy taught him how to be "systems thinker" and make effective teaching and learning part of school culture.
Humphrey echoed the sentiments of many past academy graduates who have described the preparation as invaluable.
"I have always had a passion for urban education and a strong commitment to social justice," she said. "The Aspiring Principals Academy gave me the opportunity to further develop my leadership skills and to begin doing the work of the principalship immediately through my internship year. The intense learning environment and the support provided through the program prepared me for the reality of the role of the principal."
Because of the academy's success in reducing openings, the program's format is changing.
Aspiring Principals 2.0 was open only to current assistant principals and curriculum and instruction specialists. Six members will start their year July 15, with a three-week boot camp.
A plan that guides CMSD's central office calls for continuing to build the capacity of principals and their leadership teams.
A task force collected input from school leaders, and the information will be used to create professional development for principals, said Heather Grant, director of the Aspiring Principals Program and new principal support. The professional development will be divided into tiers based on principals' varying needs.
Have a story idea for the CMSD News Bureau? Email it to newstips@clevelandmetroschools.org.