Return to Headlines
Say Yes putting support services in place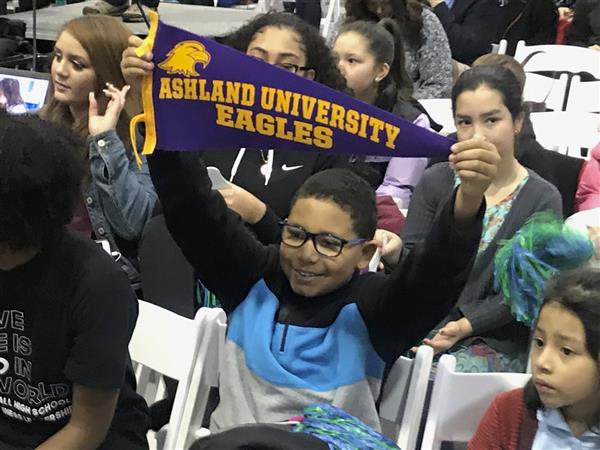 A student celebrates at the announcement of the Say Yes Cleveland program.
CMSD NEWS BUREAU
7/17/2019
Preliminary interviews that CMSD principals conducted recently with prospective family support specialists were compared to a speed dating exercise, and the analogy fit.
The specialists, part of Cleveland's new Say Yes to Education program, will work with school leadership teams and external providers to align services that help students and families overcome barriers to success. The supports will be designed to keep the students on track to graduation and Say Yes scholarships.
Say Yes Cleveland will roll out services in the District over four years, starting with 10 K-8 schools and six high schools this fall. The organization will hire one specialist for each school, relying heavily on how well the principals feel they meshed with the selection.
"The principals' input is one of the most important determinants of who is in their buildings," said Victor Young, director of student and family services for Say Yes Cleveland. "This is about finding a fit with their culture and their students."
Say Yes received more than 140 applications for the first openings and trimmed the field to less than 50 candidates.
The specialists will be paid $67,500 a year, plus. The first-year cost is expected to total $1.4 million, which is to be covered by District, Cuyahoga County and federal funds.
Everyone interviewed met the qualifications, with the majority holding a master's degree in social work, extensive experience working in an urban setting and bilingual skills where needed.
But resumes were set aside when the interviews were held at East Professional Center. The goal was to find a match for the school's profile, and, due to volume, candidates rotated every eight minutes.
Principals ranked their top six candidates in order of preference and will conduct follow-up interviews with at least two. The specialists are expected to be on the job in August.
Virmeal Finley and Victoria Janke-Mousty, co-principals at Wilbur Wright School on the West Side, took note of candidates who were familiar with available resources, felt comfortable with a diverse population and had their fingers on the pulse of the 500-plus Wilbur Wright students, the staff and the community.
Finley, who was new to the whirlwind style of the interviews, described the format as fun, but she grasped the importance of getting the choice right. She knows the specialists will have to win over wary mothers and fathers.
"Some parents had negative experiences with school," Finley said. "To have their trust is so important."
Say Yes Cleveland plans to draw on an abundance of existing community services, including many that come with public or private funding.
Say Yes Cleveland is surveying school staff, parents and students to determine which services their schools need most. Mental health counseling, legal assistance and after-school and summer enrichment programs are among those that are expected to be widely in demand.
Executive Director Diane Downing and other Say Yes Cleveland representatives recently held an information session for prospective providers of after-school and weekend programs.
Dozens of provider representatives gathered at East Professional Center to learn more about a request for proposals that were due July 17. Selections are to be made by early August.
Say Yes Cleveland, one of four chapters affiliated with the national organization Say Yes to Education, awards scholarships worth up to the full value of tuition, minus federal and state aid.
The scholarships fill gaps in tuition to all public two- and four-year colleges and universities and Pell-eligible trade or industry certificate programs in Ohio. The assistance also can be used at more than 100 private colleges and universities across the country.
Starting with the incoming freshman class, students must live in the District or city of Cleveland and be continuously enrolled in a CMSD high school from ninth grade until graduation. Students who met those conditions when the program was announced on Jan. 18, 2019, are eligible.
To learn more, visit sayyescleveland.org.