Return to Headlines
Bard workshops promote deep thinking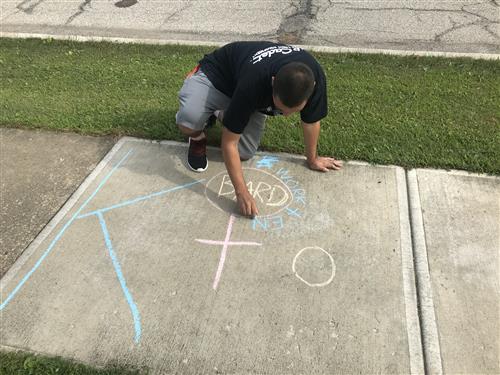 CMSD NEWS BUREAU
8/14/2019
CMSD's Bard High School Early College wants its students to become deep thinkers. That's why it has them spend the first three days of each school year in workshops designed to sharpen that skill.
The high school is one of a handful in the country affiliated with Bard College of New York. Students can earn both a high school diploma and associate of arts degree – tuition free – in four years.
For the workshops, students examine an anthology of readings, poetry, articles, artwork, memes and other pieces structured around a theme. This year, it was "Work and Play."
They express the theme in a brainstorming style known as freewriting and hands-on activities. On Wednesday, Alex Archer, a math teacher, supervised a group that made the connection with sidewalk chalk drawings in front of the building.
"We try to have fun with it. We try to do things that appeal to everyone," she said. "Our hope is that over the three days, we get them to really think about what they're doing and what they're learning and we create a culture of digging deep."
Teachers encourage participants to share their work. David, a senior, said the format makes that easy.
"You learn there are multiple answers to questions," he said. "Your answers are not wrong. They open your mind to other questions."
Sir, a junior, was in a group that was asked to take a lap around the school's green space, read a poem, write a "wish for the Earth" and plant seeds for daisies. He said that in the past two years, the workshops have strengthened his writing skills and boosted his confidence.
The workshops group students in teams that cut across grade levels. Raymond, a junior, said the mingling had helped the older students forge bonds with those who are younger.
"We open our arms to them," he said. "We joke with them. We give them advice."
Principal Dumaine Williams said the workshops promote not only critical thinking but respect.
"We use it for content delivery and for classroom management," he said. "We use it for all aspects of the classroom."
Bard High School Early College does not set a minimum grade-point average for admission but does require students to participate in an interview and submit an essay to determine whether they have a passion for the program.
Have a story idea for the CMSD News Bureau? Email it to newstips@clevelandmetroschools.org.