Return to Headlines
City Club panel sees Say Yes difference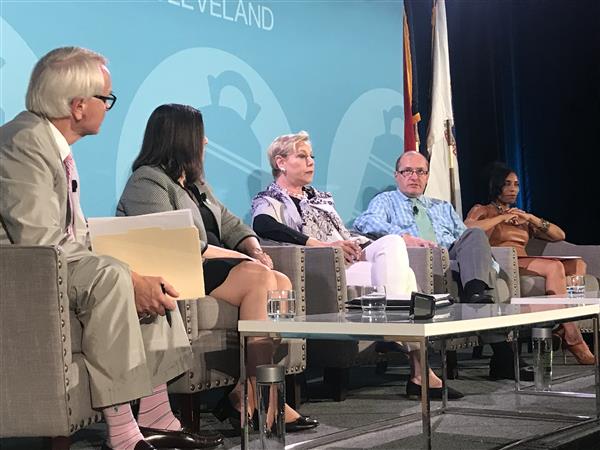 A City Club panel examines the question "We Said Yes! What's Next?" From left are moderator Joe Frolik, executive editor of ideastream; Say Yes Cleveland Executive Director Diane Downing; Lee Friedman, chief executive officer of College Now Greater Cleveland; District CEO Eric Gordon; and Monyka Price, chief of education for Mayor Frank G. Jackson.
CMSD NEWS BUREAU
8/23/2019
Say Yes Cleveland has some work to do in building understanding and raising money, but the organization already is shifting the public's mindset, leaders said Friday at a City Club forum.
Say Yes, the nation's fourth community chapter of Say Yes to Education, provides tuition scholarships to college or other postsecondary education and support services that keep students on track to high school graduation. As a result, panelists said, the question is no longer whether a child will go on to further study or training, but when.
"It's changing the hope, aspiration and culture in our community so every student knows from Day 1 that they have the opportunity to fulfill their dreams," said Lee Friedman, CEO of College Now Greater Cleveland.
Besides Friedman, the panel included Say Yes Cleveland Executive Director Diane Downing, District CEO Eric Gordon and Monyka Price, chief of education for Mayor Frank G. Jackson. Due to interest, the forum was moved from the City Club to the Global Center for Health Innovation and was sold out.
Say Yes pays up to full tuition, minus federal and state aid, to all public colleges, universities and Pell-eligible certificate programs in Ohio and more than 100 private colleges and universities across the country. To be eligible, students must live in the District or city of Cleveland from ninth grade until graduation and be continuously enrolled in a CMSD or partnering charter high school during that period.
Gordon said the public increasingly grasps the mechanics of the program but is less clear on the spirit embodied by Say Yes supports like mental health counseling and legal services. He said that while the scholarships provide financial means, the services supply "social capital" that can help students and families overcome barriers to success.
Corporations, foundations and individuals have contributed 70 percent of the $125 million that Say Yes must have to fund scholarships over 25 years, or two generations. Downing said Say Yes hopes to raise the remaining money in the next two to three years.
With every graduating class, additional mentors are needed so College Now can continue to pair one with each scholarship recipient. Friedman said recruiting would resume soon.
It has been estimated that by next year, nearly two-thirds of Ohio jobs will require a college degree or other postsecondary credential. Yet, less than half of Cleveland's residents have completed any college work and only 16 percent have earned a college degree.
To provide opportunity and strengthen the region's workforce, the City of Cleveland, Cuyahoga County, CMSD, the Cleveland Foundation, College Now and the United Way began laying the groundwork for Say Yes several years ago. Price, the mayor's chief of education, called the collaboration unprecedented.
The national Say Yes organization announced designation of the Cleveland chapter in January. Gordon said that he immediately began hearing from people who said they would benefit.
The CEO said the impact was evident this week during a ribbon cutting for the new Oliver H. Perry PreK-8 School building in Collinwood. When he asked students assembled in the gym who was going to college, all present, a cross-section of grade levels, stood.
"I'm already seeing different behaviors," Gordon said, "and we're in the second week of school."
For more information on Say Yes, go to sayyescleveland.org.