Return to Headlines
CMSD outpaces many districts in growth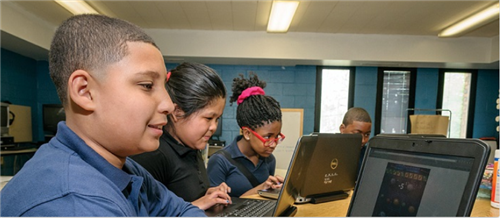 CMSD NEWS BUREAU
9/13/2019
CMSD' s new state report card shows growth that outpaces the rates of districts throughout the state.
The District's overall grade rose from an F to D, but the better news can be found by sorting through the numbers and seeing how those compare with others.
"We are not celebrating a D; we are celebrating progress," CEO Eric Gordon said. "And while we have far to go, the progress is good."
Here is what the report card shows:
The District, which achieved a gain of 2.6 percentage points in K-3 literacy improvement last school year, has improved by 4.4 points since the measure was created in the 2013-14 school year. CMSD is the only urban district in what is known as the Ohio 8 to see an increase in that period of time and ranks in the top 15 percent for growth among Ohio's 609 school districts.
The performance index, a composite of all test scores in the third through 12th grades, has increased four consecutive years and gone up 5.4 percentage points since the new Ohio State Tests were put in place in 2015-16. That is second largest gain in the Ohio 8 and ranks CMSD as the 25th fastest improving district in Ohio, meaning it's in the top 4 percent statewide.
CMSD's four-year graduation rate, 78.2 percent, is up 26 points since 2011. That's the fourth fastest growth in Ohio, ranking the District in the top 1 percent for growth.
The five-year graduation rate of 81.5 percent is the highest graduation rate of the Ohio 8 districts.
On the morning after the report was released, the CEO discussed the comparisons with WTAM 1100 radio host Bill Wills
"That's what's exciting to us," Gordon said. "We're not going to stay at a D. If we keep moving at that fast rate, catching up with our peers, that's how we get to a C, a B and then an A."