Return to Headlines
Judges hold court at Lincoln-West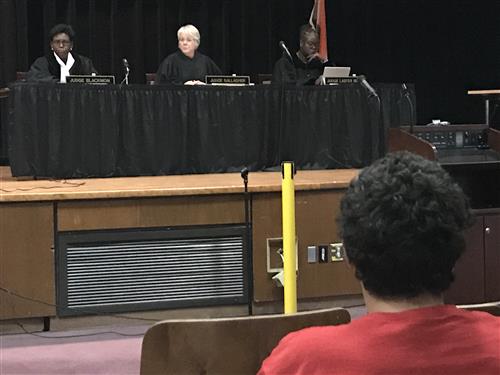 CMSD NEWS BUREAU
11/8/2019
A panel of appellate judges heard attorneys' arguments this week while also providing several dozen teenage onlookers with a civics lesson.
The Ohio 8th District Court of Appeals brought its new From Courtroom to Classroom initiative to CMSD's Lincoln-West Campus auditorium. The initiative takes judges to area schools, where they hear actual, current cases and at the same time give students a look at the legal system in action.
In this instance, an assistant county prosecutor and public defense lawyer squabbled over a motion to suppress evidence from a suburban traffic stop that led to convictions for improper handling of a firearm in a motor vehicle and carrying a concealed weapon. At issue was whether the stop was justified and the search constitutional.
"It's a real case with real consequences, not only for the parties involved but for the entire community. It sets a precedent," Milena Wick, a Lincoln-West School of Global Studies teacher, told students before the hearing. The audience included her U.S. Government and American History students and government students from the Lincoln-West School of Science and Health.
A police officer stopped the car because a Star Wars "May the Force be with You" frame partially obscured license plate stickers.
Students sat attentively as Assistant Prosecutor Michael Barth and Assistant Public Defender Paul Kuzmins debated the definition of the law's "plain view" requirement. Kuzmins also alleged that the car was stopped because the driver and his two passengers are black.
The Lincoln-West classes had prepared by reviewing court documents and discussing the case. Wick and Lincoln-West Science and Health teacher Andy Petraska said their students grew passionate in their views and leaned toward believing that the stop was flawed.
That sentiment was affirmed after arguments concluded and the judges left the stage to confer. When Kuzmins asked students whether they thought the stop was improper, almost all raised their hands. He then asked who thought the officer had reason to take action. Not a single hand went up.
Samantha, a sophomore at Science and Health, parted company with her peers. She said that forced to make a choice, she would accept the officer's position that he could not get a clear view of the sticker.
But Nathan, a junior at Global Studies, said he was "swayed drastically" by defense arguments that many cars sport custom frames around license plates – and that the Ohio Bureau of Motor Vehicles sells such frames.
After their work was finished, the attorneys and judges Eileen T. Gallagher, Anita Laster Mays and Patricia A. Blackmon told the students about the paths they had taken in education and their professions.
Barth and Kuzmins also answered questions about the case. The judges, who were out of the room at that point, could not comment because the court's decision is pending. They did, however, speak in general about their need to screen out bias and other subjects.
Blackmon and now-retired judge Sara Harper were elected to the 8th District court in 1990, making them the first two African-American women to win appellate court seats in Ohio.
Laster Mays graduated from James F. Rhodes High School, where she starred in basketball. She told of her eight-year journey through undergraduate study and law school but encouraged the students to pursue their goals, no matter how long it takes.
"Don't look at the years," she said. "The years are going to pass anyway."