Return to Headlines
College Now honors mentors during annual luncheon
CMSD NEWS BUREAU
1/9/2020
Adjusting to college can be hard. But, at times, it can be even harder to navigate for first-generation students who may not know who to turn to if they have a question or an issue.
That is where College Now Greater Cleveland can help. Through its mentoring program it matches College Now and Say Yes to Education scholarship recipients with mentors who can answer those questions and offer words of encouragement.
Close to 500 mentor and mentees gathered Thursday afternoon inside the ballroom at the Renaissance Hotel for the College Now MentorInCLE Connect Luncheon and Career Fair. College Now honored those who have dedicated their time and energy to helping CMSD and other graduates succeed in college.
"That's why we want to honor our mentors," said Jabari Dorsey, mentoring program manager with College Now. "They put in so much time, so much dedication outside of their busy schedules to help change a student's life."
Leah Wolfe-Fratiani is one of those mentors. She signed up during College Now's recruitment of more than 1,200 mentor to support the 2019 graduating class.
Simone King, her mentee, is a John Marshall Campus graduate and currently a freshman at Tri-C's Eastern Campus majoring in nursing.

"As soon as I have some questions, she's always there responding," King said. "As soon as I'm telling her what is going on with school, she's there and giving me good advice that I needed to hear."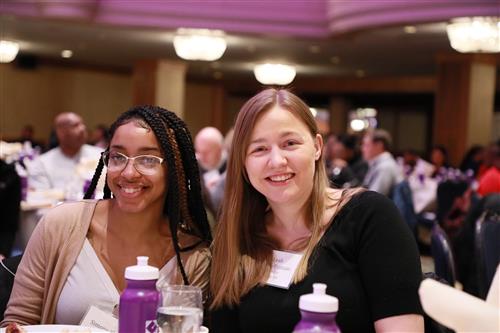 Wolfe-Fratiani says some of the topics the two have discussed during the King's first semester are getting involved, staying focused and learning how to be an adult.
"It's the first time you're really seen as an adult by other people in your community," said Wolfe-Fratiani. "And that was a hard adjustment to advocate for yourself. So that was a big, big hurdle that we got over."
Youngstown State University freshman Trinidy Maines says she experienced some rocky periods and relied on her mentor, Ruth Clemens, for moral support and guidance.
"At some points I was discouraged," said Maines, a Cleveland School of Science and Medicine graduate. "I was just like, 'I don't know. I'm not doing that well right now. I failed the test. I don't know if I should keep pursuing this path.' And she helped me. She told me it's OK, you can bounce back. Tutoring might help."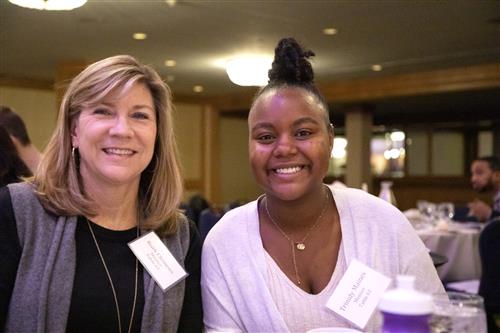 Maines took her advice and passed her first semester.
College Now reports that in the last three years of the program, 92 percent of freshmen returned for their sophomore years.
Dorsey says the program is also helping to increase the 60 percent graduation rate for students who are paired with a College Now mentor.
"We still have more work to do," said Dorsey. "But we know that having a mentor paired with that student is going to increase that graduation rate."
Roughly 200 CMSD employees are currently mentors in the program.
Dorsey says College Now is always looking for more mentors and is hoping 1,200 people with either a two- or four-year college degree will sign up to support the 2020 graduating seniors.
WKYC will start a recruitment push with a Mentor Monday promotion on Jan. 27.
January is also National Mentoring Month.