Return to Headlines
Bard, Campus find their place in Senate League
CMSD NEWS BUREAU
2/28/2020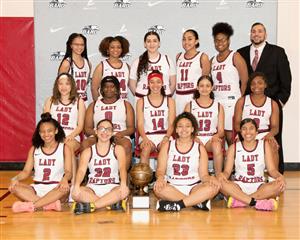 Some new names have joined Senate Athletic League games.
Bard Early College High School Cleveland and Campus International High School are newer models best known for academic programs. Bard students can earn a high school diploma and associate's degree at the same time; Campus is part of a global International Baccalaureate schools network.
But they have jumped into sports and this year joined CMSD's Senate Athletic League. The schools also are in an inaugural year as members of the Ohio High School Athletic Association.
Campus competes in boys and girls basketball, boys and girls cross-country, volleyball, soccer, swimming, lacrosse and track and field. Bard participates in all of those except lacrosse, plus baseball and softball, which will start play in April.
Athletes from Bard and Campus believe having the option to play interscholastic athletics broadens the schools' appeal.
"When people look at a school, one of the things they consider is the opportunity to play sports," said Campus junior Ben Mullin-Vanneste, who is on the basketball and soccer teams. "Especially in the Senate. It's a bigger stage."
CIHS Principal Ameer Kim El-Mallawany said athletics fit with the International Baccalaureate philosophy.
"The IB model is meant to help students be well rounded," he said. "That includes physical activity."
So how is it going in Year 1?
Bard, which has honed its programs in "extramural" play against other CMSD schools, as well charter and small private schools, holds its own – and more across its sports spectrum.
Those who follow bhsec_athletics on Instagram know that the Raptors – the same winged mascot as Bard College, which partners with CMSD on the school – just won the Blue Division girls basketball championship.
Bard beat Collinwood, 50-28, at East Professional Center. That earned the team a place next season in the stronger Red Division.
"I think we should have been there already," shooting guard Alexis Marché said before the title game. Her team went undefeated in Senate play and 14-2 overall.
The Bard and Campus boys basketball teams squared off in mid-January in a battle of Senate newbies.
Both teams had several players who were academically ineligible. The impact was particularly tough on Campus, which suffered from a height disadvantage and had freshmen filling several roster spots.
Junior guard Brandyn Jones-Parks said the Bard boys program was "a couple of years ahead" of Campus in its development and set a standard to emulate. The Bard boys finished 7-8; Campus was winless in 16 games.
That did not stop the CIHS from making a game out of the meeting between the two. The Trailblazers repeatedly cut into double-digit deficits before falling, 66-58.
"We always fight back; we definitely know how to fight," said Mullin-Vanneste, the team's center. "You will be hearing about us."