Return to Headlines
Schools easing into remote learning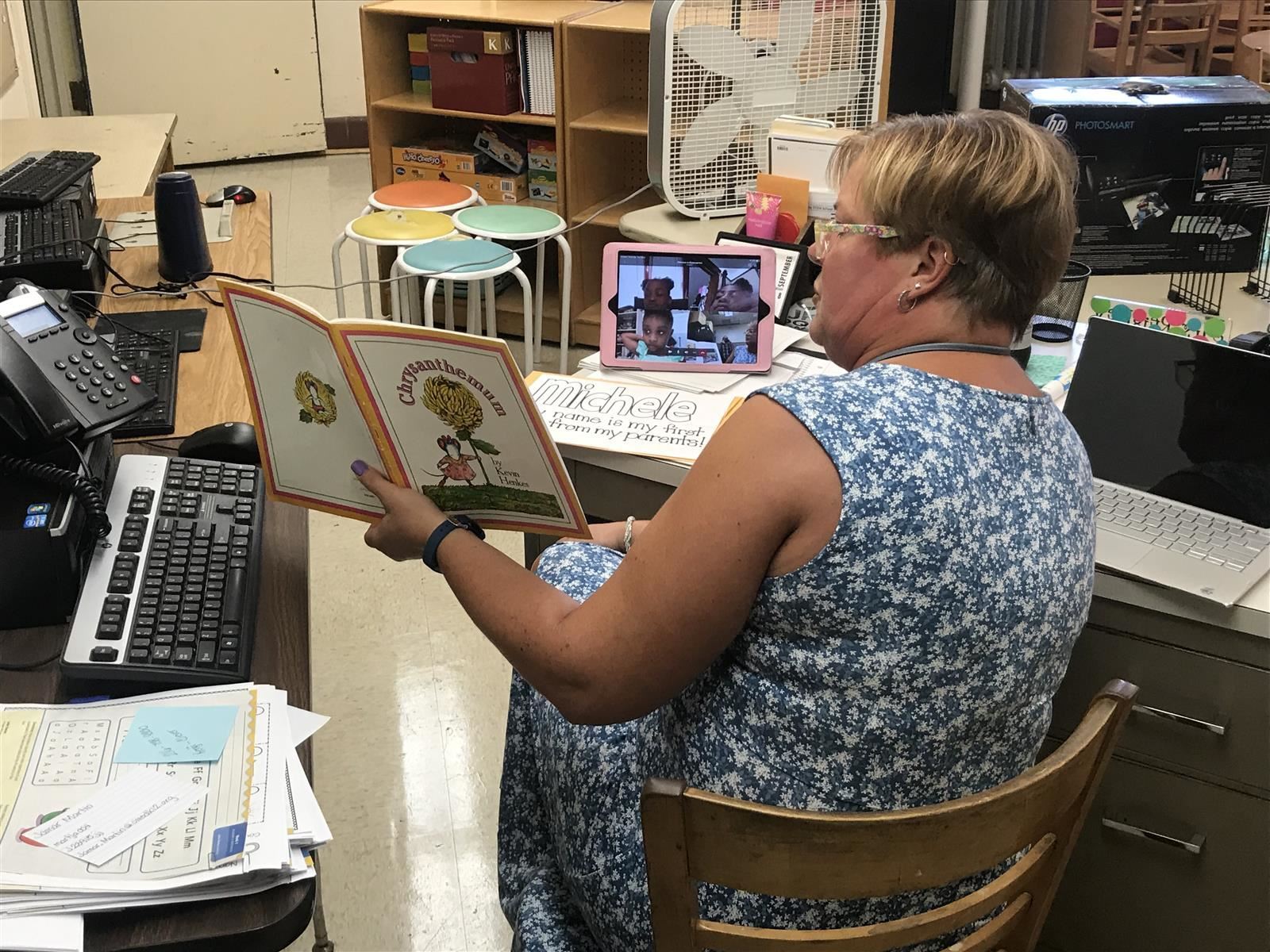 Michele Reighley, a kindergarten teacher at Michael R. White School, reads online to a small group of students.
CMSD NEWS BUREAU
9/9/2020
Tuesday was the first day of school, and Michele Reighley would ordinarily have been looking out over the faces of her new kindergarten class at Michael R. White School in Cleveland's Glenville neighborhood.
Instead, she sat alone in her classroom, working with a small group arrayed individually in the four corners of an iPad. They gazed back across the internet as she read aloud from a children's book and sought to get acquainted.
Remote learning, employed by the District to guard against the threat of COVID-19, is an adjustment for families in a city ranked among the nation's worst connected. It's also a big change for many teachers; that's why CMSD gave all of them 2 1/2 weeks of training to prepare.
More recently, with support from the administration and Cleveland Teachers Union, teachers who feel at ease online have been holding virtual office hours to support peers. But some teachers remain worried about how their skills will translate to the video screen.
"We are taking deep breaths and talking through this as a staff," said Ariel Hayes, principal at Michael R. White. Then she added with a smile: "I've only seen tears one time."
Reighley, pronounced Rike-lee, has taught 29 years, mostly with CMSD. Admittedly not a tech expert, she is going online while also returning to kindergarten after nearly a decade and a half with sixth-graders.
"I'm a little uncomfortable," she said. "Not only am I learning to teach with technology, I'm learning a whole new curriculum."
Day 1 of remote learning in most CMSD schools – a set of year-round high schools started Aug. 24 – was a test for everyone. Before it was over, CEO Eric Gordon had apologized to families who struggled to log on or waited in frustration for the last of 28,000 devices purchased by the District. The devices cleared a global pipeline choked by demand but had to be loaded with software.
CEO Gordon has advised teachers to move slowly and not immediately race headlong into their subjects. He said the focus this entire week will be on solving technical issues and familiarizing students and families with online platforms adopted for preschool through high school.
"We've got some kinks to work out, but we're going to get them worked out and get off to a good start," he said Wednesday on WTAM, one in a series of media interviews focused on the opening.
The District has posted resources to help families sign on through the Clever portal and navigate the Schoology and Seesaw learning management systems. To find those and other resources, go to ClevelandMetroSchools.org/ReopeningCMSD.
Willson School sits just across Martin Luther King Jr. Blvd. from Michael R. White, on the opposite brink of a small valley in the Doan Brook watershed. Willson, which serves as both a neighborhood school and center for the hearing impaired, was among the pockets in need of devices Tuesday. Staff spent the day contacting families and assuring them that the tech was on its way.
Preschool teacher Alexa Zauck is figuring out how to effectively connect by computer with some of the District's youngest students, especially when it comes to meeting their social and emotional needs.
"Preschoolers need handshakes and hugs and squeezes," she said. "It's hard to give them that online."
But Willson and its staff are making the most of the situation.
The school, which opened a meditation room for students last year, has just created a YouTube channel that children and adults can watch for lessons on subjects such as physical health, meditation and love and kindness.
Willson is partnering with MyCom and the Famicos Foundation on a neighborhood reading club. Recordings of readings will be available on YouTube and be played via loudspeaker from a truck that also distributes ice cream at its stops. Copies of the books will be placed in local Little Free Libraries.
Principal Dawn Hayden believes her teachers will gain confidence as they become more accustomed to remote instruction. She is looking forward to the possibilities of virtual education, such as online partnerships that Willson is developing with other schools.
"Whatever you imagine school to be, you can create it," Hayden said. "You are bound only by the limits of your imagination."