Return to Headlines
Say Yes to pilot health services at 4 schools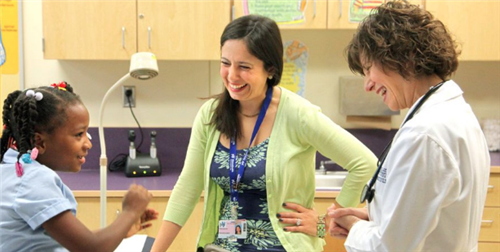 CMSD NEWS BUREAU
2/3/2021
With support from the Cleveland and George Gund foundations, Say Yes Cleveland is bringing physical and mental health services to students at four CMSD schools as part of a pilot program. Plans call for gradually expanding the support to all District and partner charter schools in the coming years.
For now, the threat of COVID-19 limits the services to online, or tele-health, visits, but when conditions permit, students will be able to visit convenient in-school or mobile clinics for wellness checks, acute care, mental health assistance and chronic disease management. Vision and dental care are to be added later.
The health services, delivered at little or no cost to families, are the newest support service launched by Say Yes Cleveland. Though Say Yes is better known for providing college tuition scholarships to CMSD graduates, the organization also lines up supports that help students and families overcome barriers to success.
(Mandel Foundation contributes $500,000 for Say Yes support services.)
"The evidence is clear that a scholar's health affects their ability to learn and engage in school," Say Yes Cleveland Executive Director Diane Downing said. "By expanding convenient access to integrated health care, Say Yes Cleveland believes we can improve health and, ultimately, academic achievement."
CEO Eric Gordon said the program will add access to external providers to a strong internal team of health professionals. In a message to the principals, he said the pilot schools would "play a big role in defining what can be a transformative program for our city."
The pilot group includes two PreK-8 schools and two high schools, with two of the schools on the East Side and two on the West Side. The sites are Mary M. Bethune PreK-8 School, Orchard STEM PreK-8 School, John Adams College and Career Academy and the John Marshall School of Civic and Business Leadership.
The sites, which had to apply, were picked from among the first group of schools to receive other Say Yes supports. Principals welcomed the opportunity and said students' families are excited.
"We felt that by bringing the services into our school, where students and families were already comfortable, we could help remove a barrier," Mary M. Bethune Principal Melanie Nakonachny said. "Additionally, we know how frustrating it can be to need to see a doctor and be required to wait a long time for an appointment. Through this pilot, our families will be able to see medical professionals with a quicker turnaround."
Surveys that Say Yes takes of CMSD families and staff have shown a big need for mental health care for households that are under heavy emotional and financial stress. Orchard Principal Kathryn Haneline cited the case of a student who had difficulty coping after both parents died within a year.
"The student was in great need of more than what we could provide at the building level," she said. "This is a support that is now available as frequently and as urgently as needed."
Plans include eventually providing care for students' families and school staff as well. And beyond making sure families' immediate needs are met, Say Yes wants to help them find a "medical home" where they can build a long-term relationship with a trusted physician.
Say Yes is starting the healthcare program with contributions from foundations or other private sources. Healthcare providers will bill Medicaid or private insurance for their services.
Study and planning for the concept began early last year with a task force of more than 80 members representing, CMSD, Cleveland and Cuyahoga County government, healthcare providers, local nonprofits and other community members. The process was just getting under way when the pandemic hit, but the group continued to meet virtually.
Say Yes Cleveland, which celebrated its second anniversary on Jan. 18, has been hailed as a game changer for a city with the nation's highest rate of child poverty.
Graduates of CMSD high schools receive scholarships for up to the full value of tuition, minus federal and state aid, to all public colleges, universities and Pell-eligible training programs in Ohio and more than 100 private colleges and universities across the country.
Say Yes has placed family support specialists in 39 CMSD schools and three partnering charter schools and is scheduled to have them in the remaining District and partner schools within the next two years.
For more information on Say Yes, go to SayYesCleveland.org.