Return to Headlines
Cleveland Orchestra honors CMSD for supporting students, families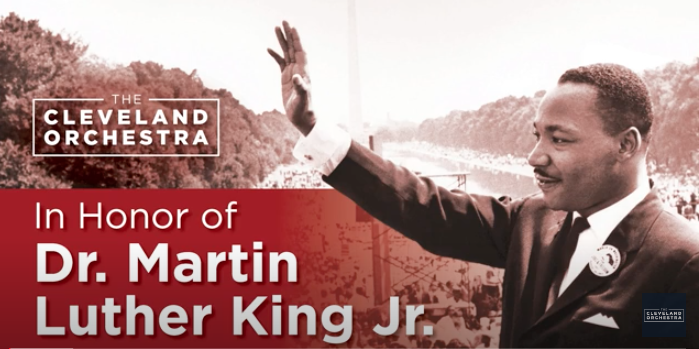 The Cleveland Orchestra has honored CMSD for working to remove barriers to education and meet families' basic needs during the pandemic.
The District was among 11 recipients of the Orchestra's annual Dr. Martin Luther King Jr. Community Service Awards.
Watch a video announcement of the award winners.
CMSD was honored under the category of Improving Education. Other categories included Community Leadership, Promoting Social Justice and Racial Equity, and Promoting Greater Understanding through the Arts.
The recipients were "just a few of the hundreds of organizations who have stepped up for our Northeast Ohio community during this most challenging year," said Jeffery Weaver, chair of the Orchestra's Community Engagement Committee and a member of the Board of Trustees.
"Each one is working to meet the community's most urgent and basic needs, address issues of systemic racism or use the healing power of arts to build community," Weaver said. "Dr. King was a lifelong champion for racial equity, unity, and community strength — qualities that the recipients of this community service award exemplify."
The Orchestra cited the District's "massive effort to provide comprehensive support for learning and basic needs for students, families and teachers." CMSD, forced to make a quick shift to remote learning, operated food sites, paid for technology and internet access and worked with other groups to develop "academic learning pods," used by families who need assistance with child care.
The Gund Foundation, honored in the same category, approved a $1 million grant to fund digital access for CMSD students, including laptops, hotspots and high speed Internet. The Orchestra noted that the grant came on top of many other gifts benefitting CMSD students, including $14 million for Say Yes to Education Cleveland in 2019.
Other recipients included the Cleveland Foundation, Urban League of Greater Cleveland, Cleveland City Council, Cuyahoga County government, Greater Cleveland Partnership, Black Lives Matter CLE, Karamu House, Cleveland Public Theatre and a partnership of three CEOs: Craig Arnold, Eaton Corp; William Lacey, GE Lighting, a Savant company; and Fred Nance of the law firm Squire Patton Boggs.