Return to Headlines
Current events inspire MC2STEM to hold human rights conference
CMSD NEWS BUREAU
2/8/2021
A pandemic. Black Lives Matter protests. A volatile election. These events by themselves are great topics for discussion in a classroom, but to have all three happen in one year prompted educators at MC²STEM to hold a human rights conference as a capstone project for 11th graders.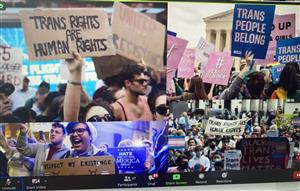 Images of rallies shared during the MC²STEM Human Rights Conference
"We really want capitalize on the events," said Clifford Powell, MC²STEM High School assistant principal. "We wanted to know how students felt about the events and then charge them to do something about it."
During the virtual MC²STEM Human Rights Conference: Bringing Order out of Chaos, topics discussed in Zoom breakout rooms included:
Human Trafficking, Police Brutality, & Gun Violence
BLM, Police Reform, Systemic Racism
Transgender Rights & COVID
Human Rights Issues
Homelessness and Hunger
The conference began with moving images and videos of school shooting victims talking at rallies before COVID-19, and videos from Black Lives Matter protests across the country.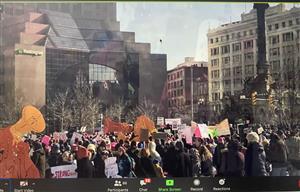 A Black Lives Protest in Downtown Cleveland
"This is the best capstone," said A'Miyah, who is a junior. "We got to talk about how we could fix our community."
A'Miyah's group gave a presentation about police reform. Through their research, they concluded police brutality happens when officers don't receive enough training or they have a bias toward someone who doesn't look like them.
"Police brutality in our area is not talked about," she said. "It is only talked about when it happens when someone dies like a Brianna Taylor or a George Floyd. It should be talked about more."
Her group realized police reform can't be resolved in a short amount of time. They wanted to start with police officers and community members getting to know one another.
By bringing police officers from different communities and community members together to have a talk, they can start to understand each other and not be afraid of each other, A'Miyah said.
"It was very eye opening, and I learned a lot just by doing the research," she said.
Powell says students did an excellent job addressing the issues and then finding ways to make a change.
"What I have learned is projects are a way to get the students interested in their education," he said.