Return to Headlines
U.S. Department of Education summit showcases CMSD reopening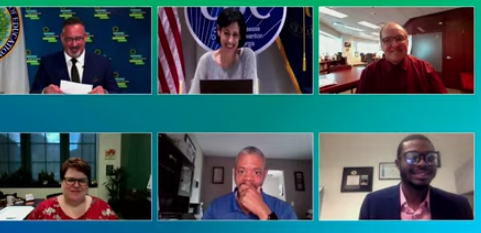 CMSD NEWS BUREAU
3/24/2021
CMSD's preparations for hybrid learning shared the spotlight when the U.S. Department of Education hosted a National Safe School Reopening Summit.
The virtual summit, held Wednesday, was designed to support and share resources with schools where students are returning after shutdowns caused by the COVID-19 pandemic. (Watch on YouTube.)
First Lady Jill Biden delivered the welcome, affirming that teaching and learning work best when students attend in person. But, she emphasized, "we have to go back safely."
CMSD and New York City representatives presented "lessons from the field," featuring reopening approaches that promote safety while focusing on equity. Secretary of Education Miguel Cardona and Rochelle Walensky, director of the Centers for Disease Control, also participated.
CEO Eric Gordon sat on a panel with Cleveland Teachers Union President Shari Obrenski, Facilities Manager Aaron Creel and Trevon Edwards, a Central State University student working in the CEO's office.
CMSD students whose families chose to shift from fully remote to hybrid learning returned just this month, with the largest group coming back this week. CEO Gordon said the District had to take a cautious approach because the city's population ranks as high risk.
Gordon outlined collaboration with the Cleveland Teachers Union on planning and the multiple ways that the District has shared information about the transition with families. He said that to be effective, the plan has to meet the needs of all hybrid and remote learners.
"We will be successful when 37,000 individual students each has a positive response," he said.
The teachers sought assurances that all safeguards were in place, but Obrenski said the District and CTU have worked together throughout the process. She said CMSD has used its nationally known expertise in social and emotional learning to make sure students and staff are comfortable returning.
Creel oversaw measures such as installation of signage and ventilation improvements, including 15,000 additional air filters and more than 900 air purifiers. He said the District provides every building with a 90-day supply of personal protective equipment and keeps three strategically located stockpiles handy for emergency refills.
Edwards, a graduate of the District's Martin Luther King Jr. High School, was instrumental in organizing operations that include mass employee vaccination centers and a COVID-19 hotline.
Gordon said the Department of Education examined CMSD's COVID response and chose the District for the summit. Ohio Superintendent of Public Instruction Paolo DeMaria congratulated the District on the honor.
"So proud of @CLEMetroSchools featured on today's National Safe Schools Reopening Summit," he tweeted. "CMSD, partners & @EricGordon_CEO recognized for safe and effective reopening approaches. Tremendous collaboration getting it done!"