Return to Headlines
CMSD students to play parts in the NFL Draft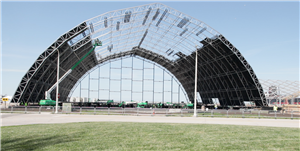 The NFL stage being constructed at the North Coast Harbor near First Energy Stadium
CMSD NEWS BUREAU
4/14/2021
The excitement is building as the NFL has released the lineup for opening night of the league draft this month in Cleveland, and it will include CMSD's All-City Choir.
The All-City Choir students aren't the only ones from CMSD participating in NFL Draft festivities. Two students-athletes from John F. Kennedy High School will announce a draft pick. And the NFL Draft Green Team will help start a community garden at William Rainey Harper School.
An NFL news release says the league is "tapping into the talent of the local community" by having the All-City Choir perform a special rendition of "Lift Every Voice and Sing."
This will be the choir's first time performing in person since the pandemic began. David M. Thomas, the musical director for All-City Arts, says he is limited to bringing just seven students on stage due to COVID restrictions but knows those students will perform with all their hearts.
"We have the talent and caliber of students to rise to the occasion," he said.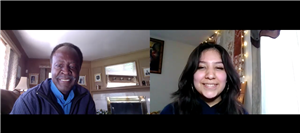 (L) David M. Thomas, All-City Arts musical director and (R) Esmeralda, a member of the All-City Arts Choir
Esmeralda, an 11th grader at Cleveland Early College High School, is one of the students who will be on stage. She is excited to perform live before an audience that will include millions of football fans watching the draft from all over the world on the NFL Network and ESPN.
"This is my first time singing for that big of a crowd," said Esmeralda, who joined All-City this academic school year. "I have never been on TV. I can't believe it; I keep pinching myself. This is a great opportunity."
The two students-athletes from John F. Kennedy High School will announce a pick on Day Three of the draft on the main stage.
Rhonda Scharf, a health and physical education teacher and coach at JFK, chose Jordan and Laron, both 11th graders, to make the announcement because they are leaders in the classroom.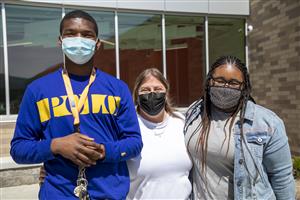 (L-R) Laron, Rhonda Scharf and Jordan
"I would say a majority of the class looks up to them, and I have seen them grow as people," said Scharf.
They also have completed the Character Playbook program sponsored by the Cleveland Browns. The digital interactive educational program by Everfi, an international technology company, uses engaging social-emotional learning activities to educate students about cultivating and maintaining healthy relationships.
"I never thought completing the Character Playbook would land me at 2021 draft," said Laron, who plays baseball and track.
Jordan, who is on the volleyball and bowling teams, says the program has taught her lessons she will use in her everyday life. And going to the draft will be something she will always remember.
"I have always been a go-hard, try-hard student," she said. "Going to the draft is the biggest way my hard work is paying off."
As part of a legacy project, the NFL Draft Green Team will donate items to start a garden at William Rainey Harper.
Rachel Grech-Scott, who supports educators with their instruction as a model lead teacher, said the NFL picked Harper because of its partnership with the Ohio State University Extension's Summer Sprout Program.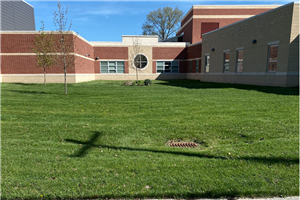 The location of the William Rainey Harper gardern donated by the NFL
The garden will have seven raised beds for planting fruits and vegetables, picnic tables, benches, and a pollinator garden for monarch butterflies, as well as a fence, all donated by the NFL.
"We are really excited that we are not only going to have an outdoor learning space, which is so important right now, but also we want to have the kids do science projects and grow food," said Grech-Scott.
Work on the garden will begin on April 28, a day before the Draft festivities take place at the North Coast Harbor near FirstEnergy Stadium.