Return to Headlines
Campus International HS wins music award for third time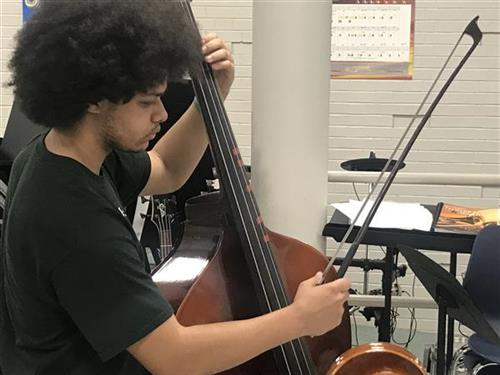 CMSD NEWS BUREAU
5/6/2021
For the third year in a row, Campus International High School has earned a national award for its commitment to teaching music.
Campus is one of only 80 schools nationwide and three in Ohio to earn a SupportMusic Merit Award from the NAMM Foundation's Best Communities for Music Education Program.
CIHS, which will graduate its first seniors this year, is located on the campus of Cleveland State University. It opened in 2017 after Campus International K-8 School, also based at CSU, had expanded to include the eighth grade.
The school's music program includes band, orchestra, music industry and music theatre classes. Campus has 375 students, and nearly one in four is enrolled in music classes.
Like schools across the District, CIHS had to improvise during remote and hybrid learning.
Students carried on with an annual winter concert, though this time it was virtual. Matthew Cotton, director of musical activities, conducted private lessons. Music industry students highlighted local music venues in a project and drafted a proposal for bringing a favorite musical artist to Cleveland for a concert.
"We have worked very hard, despite all the obstacles that the pandemic has thrown at us, to get some rigorus assessments completed, as well as studying music online," Cotton said.
Both Campus K-8 and Campus International High School are certified International Baccalaureate schools. William Rainey Harper School is a candidate for IB status.
When the curriculum's global governing body granted the high school IB status two years ago, CMSD became one of three school districts in Ohio to offer International Baccalaureate programming from kindergarten through 12th grade. The District joined Shaker Heights and Oberlin.
CMSD operates Campus International K-8 and Campus International High School in partnership with Cleveland State, which considers the arrangement part of its mission to serve an urban anchor.