Return to Headlines
Heard finishes as finalist for Urban Board Member of the Year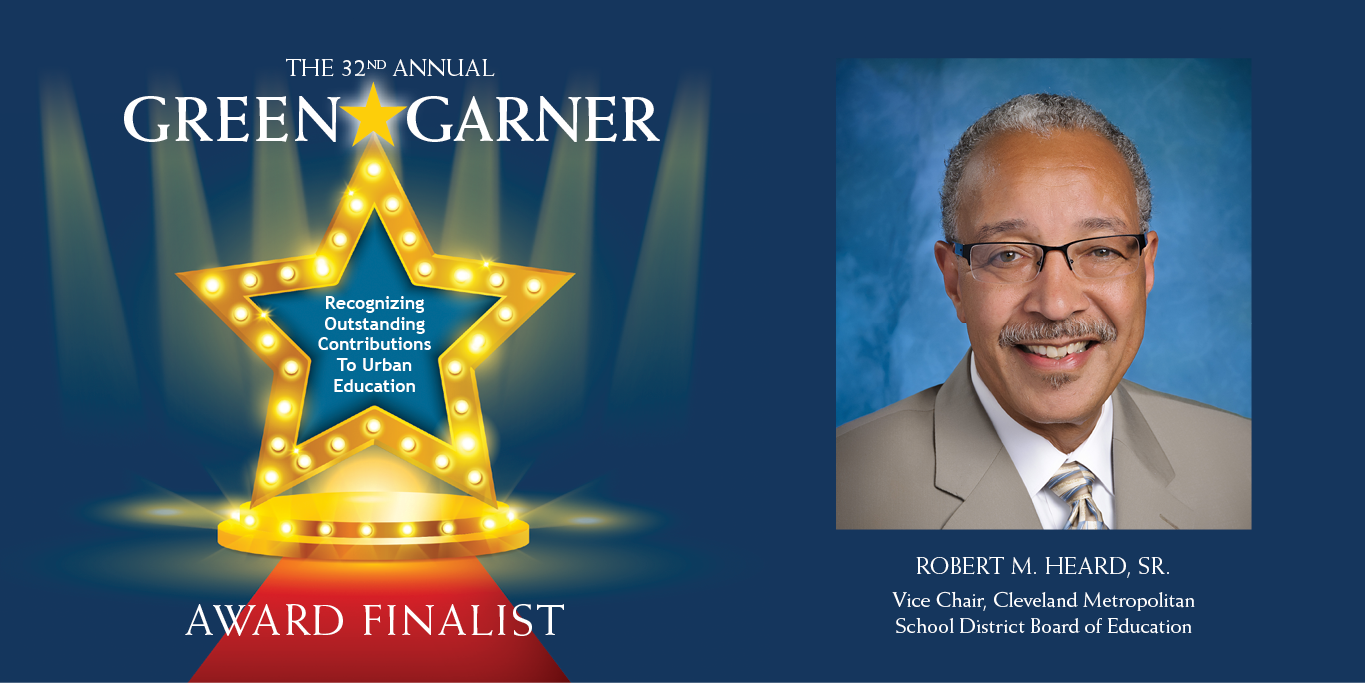 CMSD NEWS BUREAU
10/21/2021
Cleveland Board of Education Vice Chair Robert M. Heard Sr. was one of nine finalists for an award that honors the nation's Urban School Board Member of the Year.
Marta Perez, a member of the School Board of Miami-Dade County, won what is officially known as the Green-Garner Award, the nation's highest award for leadership in urban education.
The winner was announced Thursday at the Council of the Great City Schools' 65th annual fall conference. The conference is being held virtually this year due to the COVID-19 pandemic.
Heard, who lives with his wife in Cleveland's Glenville neighborhood, has served on the Cleveland board for 17 years. He is also currently president of the Ohio School Boards Association.
He has acted as a voice for the board and community, testifying before state legislative committees on issues including education funding, education reform and K-12 curriculum. He has presented annually at state and national conferences on topics such as school board governance, parent and family engagement, school levy campaigns, student attendance, student career pathways and charter school partnerships
Heard is retired from State Farm Insurance and the Cleveland Clinic. He is a graduate of John Adams High School and Cleveland State University, earned the title of fellow from Broad Institute and completed the Executive Leadership Program for Educators at Harvard University.
The other finalists for this year's award were Marcia Andrews, Palm Beach County, Fla., Board of Education; Ethan Ashley, Orleans Parish, La., School Board; Lola Brooks, Clark County, Nev., School District Board; Miska Clay Bibbs, Shelby County, Ala., Board of Education; Deena Hayes, Guilford County, N.C., Schools Board of Education; Michael D. O'Neill, Boston School Committee; and Angelique Peterson-Mayberry, Detroit Public Schools Community District Board of Education.
The award is given in alternating years to the nation's top urban superintendent and board member. CEO Eric Gordon won in 2016, and Cleveland Board of Education member Denise Link won in 2013.
This year's conference features more than 100 presentations on issues related to equity, special education, addressing unfinished learning, dual language and English learners, and COVID-19. Speakers include historian, author, and Emmy Award-winning filmmaker Henry Louis Gates Jr.; Priscilla Chan, co-founder and co-CEO of the Chan Zuckerberg Initiative; Juliana Urtubey, 2021 National Teacher of the Year; U.S. Education Secretary Miguel Cardona; and Barbara Jenkins, superintendent of Orange County Public Schools in Orlando, Fla., and chair of the Council's Board of Directors.