Return to Headlines
Jamison's True Leaders Think Twice Program is making a difference (Video)
CMSD NEWS BUREAU
5/20/2022
Students at Robert H. Jamison Leadership Academy are learning how to be leaders in school and at home.
In the True Leaders Think Twice program, in its first year, people share their experience with students so they can make better decisions.
Vassimo Dillard, a third-grade teacher, started the program to improve the school culture.
"Our students needed more support," said Dillard. "They needed to be role models for one another.
During three programs throughout the school year, students in the fourth through eighth grades heard from various guest speakers.
Cleveland rap artist YFL Kelvin talked to the students about his struggles in school and losing his father at the age of 5. He also encouraged the students to make good choices.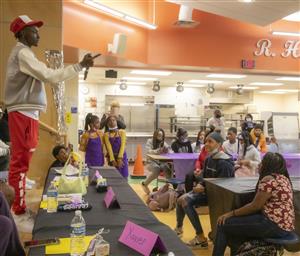 "Make sure you stay in school," said YFL Kelvin. "Think twice about everything you do. Think about the results. Think about what you are doing right now and what might happen if you don't do the right thing."
Terri Greene said that her grandson was shot because he was in the wrong place at the wrong time and that he got in trouble with the police because he was hanging out with the wrong crowd.
"They stole cars, and he ended up in jail for some time," said Greene.
Simone King, also known as Bella Simone, told the students that bullying affected her self-esteem, but she didn't let that stop her from becoming a cheerleader at John Marshall School of Business and Civic Leadership and pursuing her music career.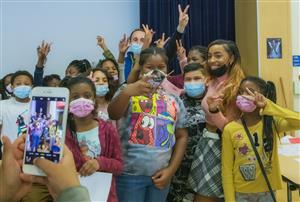 The students appreciated King's openness.
"I thought it was great," said Aalihyanna, a Jamison fifth grader. "She is inspiring other people to stop bullying."
"I feel brave," said Mariyah a fourth grader. "If I ever get bullied, I will speak up and I will just stand up for people who get bullied."
Dillard says the school culture is improving because students are thinking twice about their actions.
"They talk about True Leaders Think Twice," said Dillard. "I hear them in the hallway talking about the program. So it has impacted here at school. And hopefully, they can take what they learned at school, home and share with their family members as well."