Return to Headlines
Grants will help develop and retain new teachers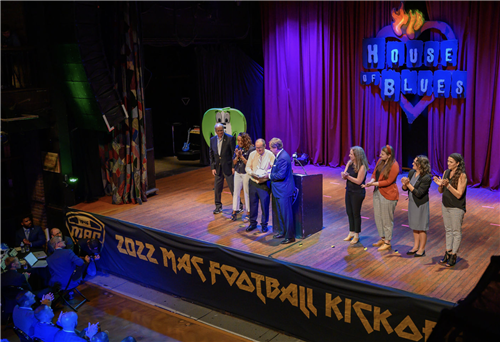 CMSD NEWS BUREAU
7/27/2022
The Mid-American Conference and partners will provide a projected $1.8 million in grants to help CMSD develop and retain new teachers.
The Cleveland-based intercollegiate athletics league announced the grant package Tuesday at the House of Blues as part of the 2022 MAC Football Kickoff.
The MAC, the College Football Playoff Foundation and CMSD will fund the work over five years with the Cleveland and George Gund foundations, pending approval by those two philanthropies' boards.
In 2017, the MAC and partners awarded CMSD $1 million for the same purpose, and data shows retention rates have increased.
"It has been gratifying to be a part of such an innovative initiative that has made a difference," MAC Commissioner Jon Steinbrecher said.
Through the TEACHing Cleveland program, three teachers will work full-time mentoring new teachers one on one. CMSD also will offer professional development sessions where new teachers learn from award-winning professionals.
"We are so grateful to the Mid-American Conference and their partners for this substantial investment in CMSD's newest educators," CMSD Chief Executive Officer Eric Gordon said. "Providing high-quality support for our newest teachers by those who have been identified as our best teachers is an important part of attracting and retaining the very best talent to Cleveland."
The first grant included funding for CMSD's Resident Educator program, which provides mentoring, professional development and other support to teachers who are new to the field or just new to the District. The Ohio Department of Education requires the induction program for any teacher holding a four-year Resident Educator License or a four-year Alternative Resident Educator License.
Watch the video below and hear teachers in the Resident Educator program talk about how it has benefited them.