Return to Headlines
Time right for change in leadership, CEO says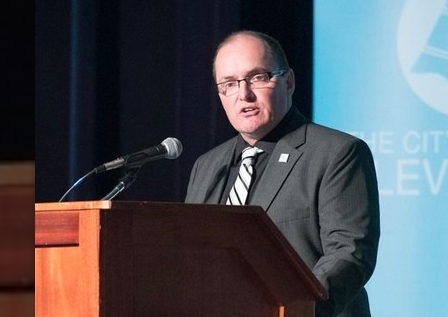 CMSD NEWS BUREAU
9/13/2022
Chief Executive Officer Eric Gordon started on a one-year, prove-himself contract and became CMSD's longest serving superintendent in more than four decades. And he's not finished yet.
"I have always felt honored and privileged to lead this District," the CEO said Tuesday, a day after announcing that he will step down when the school year ends in June. "And I still feel that way. I will give nothing less than my best until the last day."
While the decision to leave the job was difficult, the timing is right, Gordon said. CMSD, like other districts, faces a long recovery from the pandemic, and current conditions favor a smooth transition. Public trust is high, finances and facilities are in great shape. Union contracts are in place, and management and labor have forged a good relationship.
"The best thing a leader can do is set the next leader up for success," said the CEO. "I'm not leaving because I'm tired or burnt out. I could have been selfish and stayed. I still love this work."
Gordon, 52, will remain in Cleveland but has not decided what he will do next. He has been with the District for 16 years, the last 11 as CEO. By comparison, the average tenure of an urban superintendent is less than three years.
CMSD was on the brink of falling into state control when his run began but was allowed to steady itself under The Cleveland Plan, a customized blueprint for education reform.
Until COVID-19 interfered, the District had achieved gains outpacing those of school systems throughout Ohio and the nation. The graduation rate rose from 52.2 percent to 80.9 percent. Voters have signaled their confidence by approving three levies and a bond issue.
The community helped launch Say Yes Cleveland, which provides graduates with full-tuition scholarships to all public colleges, universities and Pell-eligible job-training programs in Ohio and more than 100 private colleges and universities across the country. More recently, the District and partners rolled out the Planning and Career Exploration, or PACE, program, designed to help all students chart a course to living wage jobs.
CMSD also is building on the success of The Cleveland Plan by laying out a new Vision for Learning. The Vision thoroughly engages students and gives them greater control of their learning. For example, students choose and research projects that they present before judges who give feedback.
Mayor Justin Bibb and the Board of Education have nearly 10 months to find a new CEO, a position that Gordon calls "one of the top jobs in the nation." He cites support from a community that values education, CMSD's strong national reputation and the potential for making a difference in an urban district of manageable size.
Gordon said the next CEO should focus deeply on academic recovery from the pandemic, a task new test data shows is already under way. He said the District should also join the mayor in a community youth agenda that tackles hunger, violence and other problems that impede education.
He takes pride in CMSD's progress, but his greatest joy comes from interacting with students, whether he is at a graduation, attending a performance or just visiting a classroom.
"Kids will say, 'You're Mr. Eric Gordon,' using my first and last name, like I'm a movie star or something," he said. "The fact that they know me feels really personal."