Return to Headlines
School renamed for activist Mary Church Terrell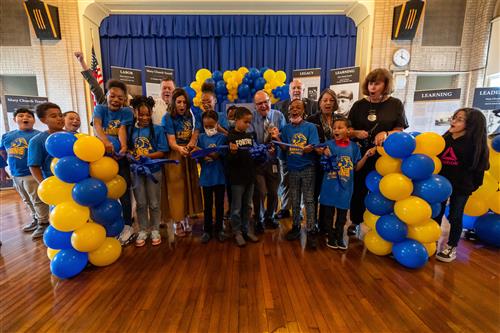 CMSD NEWS BUREAU
9/15/2022
Mary Church Terrell spent her life fighting for equal rights and the right to vote.
Now one of Cleveland Metropolitan School District's schools is named in her honor.
"We couldn't ask for a better role model. We will work to preserve Mary Church Terrell's spirit," said Angela Boie, Mary Church Terrell School principal.
CMSD held a ribbon-cutting ceremony Tuesday to celebrate the renaming of Louis Agassiz PreK-8 School after the internationally known lecturer, educator and activist.
Born in 1863, Terrell was one of the first Black women to earn a Bachelor of Arts and Master of Arts degrees from Oberlin College. She taught at Wilberforce University, one of two Historically Black Colleges and Universities located in Ohio.
Oberlin's main library is named after Terrell. During the ceremony, Valerie Hotchkiss the director of Oberlin Libraries, told the students about Terrell's impact on fighting for women's right to vote and equal rights for African Americans.
"She fought against Jim Crow laws, fought against segregation and federal anti-lynching laws," said Hotchkiss. "Her successful work in desegregating Washington, D.C. restaurants helped pave the way for the Supreme Court ruling to desegregate schools."
Board policy prohibits naming schools for individuals who have a documented history of enslaving other humans, or actively participating in the institution of slavery, systemic racism, the oppression of people of color, women, or other minority groups, or who have been a member of a supremacist organization.
Agassiz a Swiss-born American biologist and geologist who is recognized as a scholar of Earth's natural history, believed science could be used to justify racism and white supremacy.
CMSD CEO Eric Gordon said this is not a cancel culture moment.
"This is not to erase history but to update it," said Gordon. "We are learning. We are a learning institution and want to update history to reflect the modern values we hold as a community."
Board of Education member Dr. Lisa Thomas said this day was a dream come true. She had wanted to see the school's name changed for years.
"This is a historic day because we are saying, Dr. Agassiz, you got it wrong, and Mary got it right for advocating for women, people of color and all people of all abilities," said Thomas.
This is the third school renaming this academic year. The other renaming dedications were Stephanie Tubbs Jones School, formerly named for Patrick Henry, and Natividad Pagan International Newcomers Academy, once named after Thomas Jefferson.