Return to Headlines
IT Connect Center aims to assist families with tech support 24x7 (Video)
CMSD NEWS BUREAU
06/29/23
For Celia Schoenfeld, helping her child with his homework became a challenge when he had technical issues and there was no one to call.
"I couldn't help my kid," said Schoenfeld, who is also a CMSD parent ambassador at Max S. Hayes High School. "I was googling on my phone ways to fix his computer."
Now she and other parents, staff and students will be able to call the iT Connect Center, 24-hours a day for free technical support with any CMSD devices.
Curtis Timmons, the district's chief information officer, said during the grand opening of the center on Friday, June 29th, that having this kind of support will take CMSD to the next level of helping families.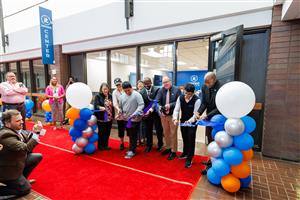 "The vision here is around giving our families and staff the same experience they would have at AT&T or with any other service provider," said Timmons. "We always want to be there for our families and give them the resources for anytime, anywhere learning."
During the pandemic, CMSD became a one-to-one district by providing every student with a device to allow for learning to happen anytime and anywhere.
Timmons adds families can either come to the iT Connect Center, located on the first floor of East Professional Center, or call 216-838-0440 for around the clock support provided by Delaware Delivery Center for technical assistance.
CMSD's community partners CAI and Bluum paid to redesign the space for the welcome center. And many other district vendors including AT&T, T-Moblie, Dell, and Microsoft also contributed.
Incoming CEO, Dr. Warren Morgan, said this service is needed and will provide a world-class experience.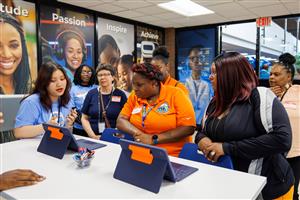 "This is going to be a blessing to our scholars, parents and educators," said Dr. Morgan
Staff, students, and caregivers can bring their CMSD devices to the iT Connect Center Monday-Friday from 7:30am to 5pm or call 216-838-0440 anytime for technical support.