---
Conferences take team approach
Parents and teachers at four of CMSD's K-8 schools are working as teams to raise students' academic achievement.
As part of a pilot program, Mary B. Martin, Willow, McKinley and Wilbur Wright schools have replaced conventional parent-teacher conferences with a series of workshops for parents of students in kindergarten and first grade.
Instead of brief individual meetings once or twice a year, teachers and parents will come together as Academic Parent Teacher Teams for a series of three 75-minute sessions. Parents will review their children's data, set goals for the students and practice activities they can use to reinforce lessons at home.
"What we want to do is deepen the conversation with parents about how students are doing," said Tracy Hill, the District's executive director of family and community engagement. "You are creating this community of parent learners." Hill hopes to expand the program next year.
---
Committees to help shape new small schools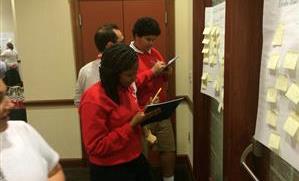 A broad cross-section of the community came together Nov. 20 to begin shaping a vision for three new small CMSD high schools.
Parents, teachers, students and alumni, elected officials, representatives of business and nonprofit organizations – about 60 people in all – make up the advisory committees that will draft guiding principles for new educational designs at James F. Rhodes and Lincoln-West high schools.
"You are going to be our standard bearers," Chief Portfolio Officer Christine Fowler-Mack told a joint meeting of the panels at the downtown Hilton Garden Inn. "You are going to help keep us accountable to the goals and objectives we set forth."
Carnegie Corporation of New York has provided $3 million to plan the new schools and ensure a successful rollout. The foundation previously provided money for two new designs now in effect for John F. Kennedy High School: JFK PACT (Problem-based Academy of Critical Thinking) and JFK E³agle Academy (the E's stand for Engage, Envision and Excel).
---
Students join attendance campaign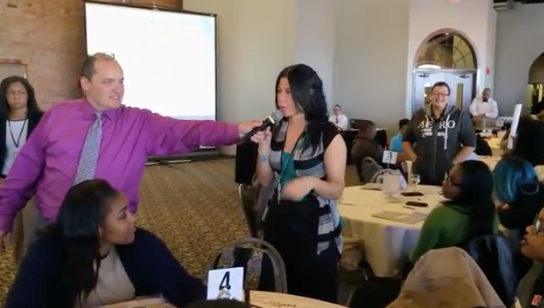 District strategists and the "Get2School, You Can Make It!" committee are branching out into new territory at the request of CEO Eric Gordon: Enlisting students in the campaign to improve attendance.
Nearly 30 pizza-and-chicken stuffed CMSD students (hardly anyone touched the salad) laughed, fooled around and then brainstormed and got down to business after school Nov. 5 at the Rascal House at Cleveland State University.
The students make up the volunteer subcommittee of Gordon's Student Advisory Committee, which represents the District's high schools and provides the CEO with feedback and direction on issues and concerns. The committee tackled the attendance issue at its quarterly meeting in October.
At that larger session at Windows on the River in The Flats, several hundred students participated in similar brainstorming exercises and came up with dozens and dozens of ideas.
---
Preschool network adds centers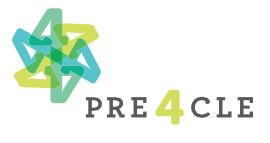 PRE4CLE honored 16 more preschools Nov. 5 for joining its campaign to make high-quality preschool more accessible to District families.
The network, a partnership between CMSD and private preschool providers, held its second annual Early Adopters Induction Ceremony at Marigold Catering on Lakeside Avenue.
PRE4CLE was formed in 2013 and now serves 4,107 children at 106 sites. More than half of those sites are at CMSD schools.
---
Where to find more CMSD news
Find text and video stories in the News Bureau section of the CMSD home page, www.clevelandmetroschools.org. Email us at newstips@clevelandmetroschools.org
---
The Board of Education does not unlawfully discriminate in educational programs, activities or employment on the basis of race, color, national origin, sex, sexual orientation, age, citizenship status, economic status, religion or disability.