CMSD enrollment rises for first time in years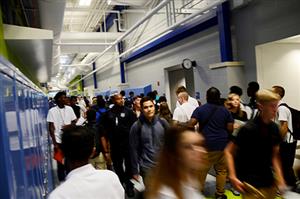 For the first time in years, CMSD's enrollment is up.
As of Tuesday, the District had 38,965 students, compared with 38,270 on the same date last year and 37,533 when the previous school year ended in May.
While the year-to-year rise of 695 students is modest – about 2 percent – it comes after a long period of sharp decline. Chief Executive Officer Eric Gordon has pointed to the shift as a sign that The Cleveland Plan , a citywide blueprint for school reform, is helping to rebuild public confidence.
The total is 1,454 more than the District had budgeted for and 3,000 more than consultants for the Ohio Facilities Construction Commission forecast. The OFCC uses its projections to determine state funding for CMSD's school construction and modernization program.
Nearly 1,400 students transferred to CMSD this year from charter schools.