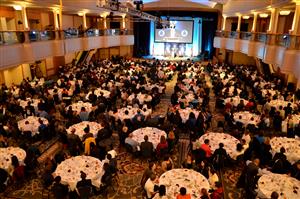 The Cleveland Metropolitan School District has made good on a vow to begin dramatically revamping a failing culture, CEO Eric Gordon said Tuesday in the annual State of the Schools address.
In his half-hour speech, Gordon took an audience of more than 850 on a trip back through a year of needed "disruption" and recounted shifts that, driven by reforms in The Cleveland Plan, have begun reshaping the District.
"The 2013-14 school year will likely be remembered as the year that CMSD shook the status quo to its core and kept our promise to taxpayers and voters that the District cannot and will not tolerate business as usual in an any area," he said to applause in the ballroom of the Cleveland Renaissance Hotel.
---
---
Hosted by theCity Club of Cleveland, the address laid out sweeping reforms spurred by the state-sanctioned education plan, a landmark collective-bargaining agreement with the Cleveland Teachers Union and Issue 107, a four-year levy that generated the District's first new operating funds in 16 years.
The CEO plowed through a checklist of old ways now gone: cycles of budget deficits and layoffs, perfunctory teacher evaluations, automatic pay raises and decisions based on the interests of adults, not children.
State of the Schools highlights
---
"The Work" - CEO year in review