MetroHealth opens students' eyes to health careers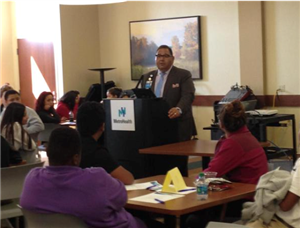 New vistas opened Tuesday for some CMSD high school students – all they had to do was cut through the MetroHealth System cafeteria, pass the cash registers and turn right.
Nearly 50 ninth-graders from Lincoln-West and James F. Rhodes high schools gathered in a hospital dining room for the first session in the MetroHealth Scholars program.
The eight-part series will bring the students to MetroHealth's West Side campus once a month in hopes of opening their eyes to medical and other career opportunities in health care. It grew from President and Chief Executive Offer Akram Boutros' desire to expand the system's partnership with the District.
Dr. Boutros kicked off the program by retracing his journey from a youth flirting with trouble to top hospital executive. Chief Medical Officer Dr. Al Connors then walked the students through MetroHealth's 178-year history of battling infections, burns and trauma.