---
CEO named Urban Educator of the Year
CMSD Chief Executive Officer Eric Gordon has won the Urban Educator of the Year Award, the highest honor available to an urban superintendent in the United States.
The Council of the Great City Schools presented the award to Gordon on October 20th at its fall conference in Miami. The council cited the CEO's role as an architect of reforms in The Cleveland Plan and noted a rising graduation rate, growing parent participation and the District's first enrollment increases in decades. Read full story in the News Bureau.
---
Message from CEO Eric S. Gordon
---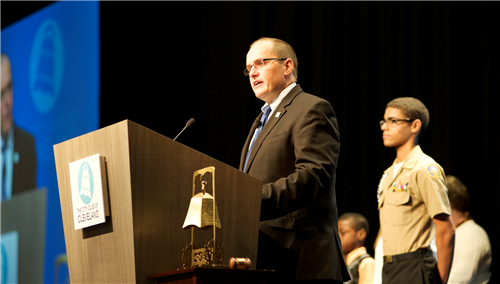 The digital clock on the home page of the CMSD website is a visual reminder of the time and resources given in 2012 and in 2016 to turn around Cleveland's public school system. Bipartisan support ofThe Cleveland Plan and the subsequent passage of Issue 107 and Issue 108 have positioned the Cleveland Metropolitan School District to make good on its promise to replace decades of flat and declining results with positive gains.
CMSD has celebrated a number of milestones on our Cleveland Plan journey: a record graduation rate, increased parent engagement, gains in attendance and enrollment. expansion of high-quality preschool and the launch of new school models that offer an increasing array of quality school options for families.
These and other improvements were made possible with the top-to-bottom overhaul of the Cleveland public school system that we promised and delivered over the last five years. Together, we are making the Cleveland Metropolitan School District a model urban school district and earning our reputation as one of the fastest-growing school districts in the nation.
Sincerely,
Eric S. Gordon, CEO
---
Recent Headlines from the News Bureau
---
Photos from the 2016 State of the Schools Address
September 14, 2016
---