Return to Headlines
Fryer appointed to Cleveland BOE; Bingham and Heard are new chairs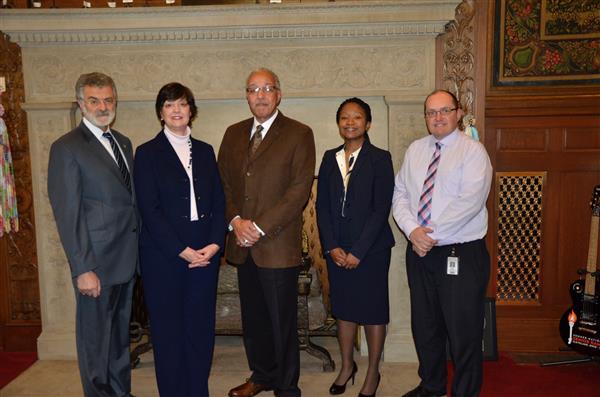 CMSD NEWS BUREAU
1/9/2016
Mayor Frank G. Jackson swore in Anne Bingham as the new chair of the Cleveland Board of Education on Monday. Veteran board member Robert Heard Sr. was sworn in as vice chair.
Bingham, who has been a board member since 2014, replaces Denise Link while Heard takes over for Louise Dempsey.
Link and Dempsey will remain on the board but decided to step away from the leadership roles. They served as chair and vice chair for more than seven years, the longest stretch for any officer since the board was placed under mayoral control in 1998.
"The timing just seemed right," said Link, whose term as chair spanned periods of significant change in the District. "I look forward to continuing my work on the board, but passing the gavel will free up some of that time to meet obligations to my family."
CEO Eric Gordon, who was present at City Hall when the new chair and vice chair were sworn in, said strong leadership on the board the last five years is a distinguishing factor in CMSD's transformation under The Cleveland Plan, a blueprint for education reform in the city.
"I am personally grateful that my entire time as CEO to date has been served under the strong leadership of Denise Link and Louise Dempsey," he said. "During their tenure, CMSD moved from a period marked by mass school closings and layoffs to an era that included passage of three ballot issues and meaningful reform made possible by their vision for a quality public school system."
Bingham, who lives in the city's West Park neighborhood, is an assistant vice president for private banking at Fifth Third Bank and has more than 30 years of experience in banking and finance.
Heard, who lives in the Glenville neighborhood and is retired from both State Farm Insurance and the Cleveland Clinic, has been on the board since 2004 and served as its chair from 2007 to 2009. He is a trustee of the Ohio School Boards Association and the association's Northeast Region.
The board also welcomed a new member in Jasmine Fryer, who will fill the vacancy created when Stephanie Morales resigned last August to take a job in another state. The term will expire on June 30, 2019.
Fryer currently serves as program director for
Chiefs for Change
, a nonprofit coalition of district and state education chiefs founded in 2015.
Chiefs for Change seeks to help states respond to the landmark new federal education law, the Every Student Succeeds Act. The organization also helps to develop new leaders and launch innovative new policies and practices.
Gordon was elected to Chiefs for Change last year. Upon learning of the mayor's plan to appoint Fryer, the CEO resigned to avoid the appearance of a conflict.
Fryer, who lives in the Buckeye neighborhood, began her career as a middle school teacher with Teach for America in New York City and also served as a policy analyst at the Nellie Mae Education Foundation. As a Fulbright Scholar, Fryer worked, lived and volunteered in Thailand, China, Morocco, Jordan and Israel. She also served at the New York State Department of Education during the administration of John King, now the U.S. Secretary of Education.
Fryer said she hopes to use the wide-ranging experience she gained both in classrooms and in policy and research to bring a unique perspective to CMSD.
"I'm excited about working with the board and CEO Eric Gordon to continue the great work and momentum of
The Cleveland Plan
and to focus on equity and excellence for all students," Fryer said.
See photos from the swearing-in ceremony in the gallery below.