Return to Headlines
Clark School earns top ranking among Ohio urban schools in Fordham study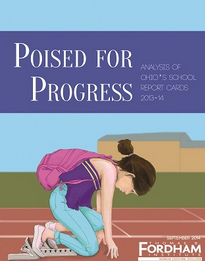 CMSD NEWS BUREAU
11/6/2014

CMSD's Clark PreK-8 School is ranked No. 1 in a just-released report comparing schools in Ohio's eight largest urban districts.
The report by the Thomas B. Fordham Institute, "Poised for Progress" examines both traditional public schools and charter schools within those districts to try to identify "high quality schools serving urban children." You can
download the report here.
"I want to congratulate the Educators of Clark School for being recognized not only as one of the 48 traditional public schools identified as 'poised for progress' under these rigorous standards, but as the No. 1 school in the State of Ohio for Schools of Impact," District CEO Eric Gordon said in an e-mail to CMSD staff. The Fordham report used the Schools of Impact designation to highlight the top 25 urban schools in Ohio.
The ranking is based on each school's performance index and value-added rating. The index is a composite of all applicable test scores
,
while value added calculates student achievement data over time to measure gains in learning.
"It provides a way to measure the effect a school or teacher has on student academic performance over the course of a school year or another period of time," Gordon said, referring to the value-added measurement.
Clark School,
located on Clark Avenue on the West Side, scored of 18.5 in value added, making it the top ranked among 81 schools (48 public, 33 charter schools) named as meeting Fordham's definition of high quality in the report.
Valentina Moxon, a District network leader for Clark and 15 other schools, said this week that Clark has "taken off" under the leadership of Principal Amanda Rodriguez over the last half-dozen years.
"Amanda turns academic theory into actionable items," she said. "This is at the heart of what we do in growing every child."

Rodriguez also has a "hands-on, collaborative relationship with her teachers" at Clark, Moxon said. "She is a huge, huge advocate for the children. Everything she does at Clark is for the students, then the parents, the teachers and the community."
Rodriguez deflected the credit to her staff and looked ahead.

"It is my honor to lead the Clark PreK-8 School staff," she said in an e-mail. "The Clark family is elated to have reached this outstanding level; however, we know that our job is not complete, and we will continue to work hard to surpass this year's goal!"
She said a number of things make Clark special in her mind, including:
• A staff (including teachers, secretarial, kitchen, custodial, administration, paraprofessionals) that "focuses on building positive relationships with students which leads to student achievement."
• Teachers who are "passionate and dedicated to the children and families and who take their job personally."
• Data-driven instruction that includes "differentiated lesson plans to meet the needs of the individual students."
• Teamwork among administration and staff.
• A focus on meeting the needs of the "whole" child.
• Learning through exposure beyond the classroom.
• Full inclusion of students with disabilities
• High expectations for students and staff
• Bilingual students receive instruction in English and are included in all classrooms.
The Fordham Institute is affiliated with the Thomas B. Fordham Foundation. For more information, go to www.edexcellence.net
Much of the report is critical of urban education across the state, saying: "the academic standards in Ohio and in many states across the nation remained too low, and student outcomes mediocre. The minimum expectations for what students should know and be able to do failed to match the demands of colleges and employers."
It concludes that "Ohio policymakers and educators have much hard work ahead of them," but also that "Ohio is poised for positive change. "