Return to Headlines
Cafeteria manager goes the extra mile to lift students' self-esteem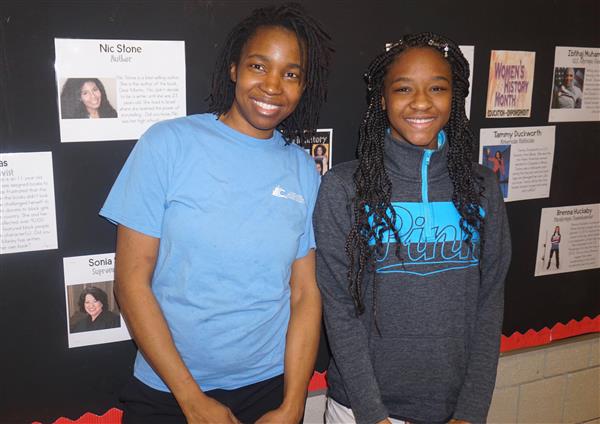 Ethel Hicks, the cafeteria manager at Marion C. Seltzer, works with students like Louvear in her after school program, Beyond Outlets.
CMSD NEWS BUREAU
4/5/2018
Ethel Hicks' job is to oversee the lunchroom operations for hundreds of students at Marion C. Seltzer School -- and she does that well -- but her impact on the students stretches far beyond the walls of the cafeteria.
Last summer, when Marion C. Seltzer served free summer meals to children in the community, Hicks set up a makeshift library and activity center to keep families entertained. She also designed a new setup for the school cafeteria to better keep an eye on students and was quick to volunteer as a cafeteria monitor when the role was vacant. But her most recent endeavor, the creation of an after-school program called Beyond Outlets, is helping girls be comfortable in their skin and discover new passions.
Hicks' dedication to the students led Principal Caitlin Kilbane to nominate Hicks for the Operations Department Employee of the Year. She was presented with the award at the department's annual banquet.
"She exemplifies the term 'going above and beyond the call of duty,' " Kilbane said.
Hicks' role as cafeteria manager gives her unique insight into the daily interactions that shape girls' confidence. Once, she saw some students make fun of a girl wearing a pair of boots that she had decorated in a unique way. Hicks pulled the girl aside to praise and encourage the student's creativity and self-expression.
"I told her, 'The fact that you can take something old and make it new and interesting is fantastic and powerful,' " Hicks said.
She came up with the idea to introduce girls to new activities in the hopes that they might discover a new passion in martial arts, sign language, musical instruments or dance, to name a few possible interests. Hicks brings in instructors through a grant she received from Neighborhood Connections to work with the students in second through eighth grade twice a week after school.
The group started with a core group of about six, and has since grown to close to 30.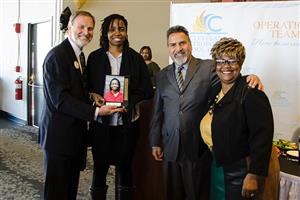 Louvear is a sixth-grader at Marion C. Seltzer who reluctantly joined Beyond Outlets when it first started. Her favorite activity so far has been yoga.
"The exercise felt good," Louvear said. "The yoga helped me release all my stress, and it was calm and relaxing."
Hicks has also worked with the girls to organize events at the school, like bake sales and a Valentine's Day dance. The girls gained experience in entrepreneurship, leadership, event coordination and teamwork while having fun and spending time with friends. And the group decided to use any money they receive from these events to help a fellow student who might need a new backpack or other school supplies.
Hicks has helped Louvear and other girls work through conflicts with friends and family, something that has been helpful because she has been in the girls' shoes.
"Everyone needs that extra person to talk to at school when life gets hard, in a way that you sometimes feel like you can't with teachers or friends," Hicks said.

The girls also talk as a group, or one-on-one if a student asks, about "girl stuff" like puberty and romantic relationships.
Louvear said Hicks is her role model and Beyond Outlets has drastically changed her behavior and self-image. She used to struggle to find healthy ways to express her emotions until she met Hicks and joined the group.
"I used to act out with my friends and in class, but then I learned to do things like write and draw to calm down," Louvear said.
Each of the activities and discussions in Beyond Outlets is grounded in self-respect and self-love. At one meeting, Hicks gave each girl a mirror and told them to write down on the mirror qualities that described herself. The only rule was that the words had to be positive.
"It felt good, because I used to not think of myself as smart or pretty," Louvear said. "I've started changing the way I think and talk about myself."
CMSD Operations Director Patrick Zohn said the outreach that Hicks performs moves him to tears and exemplifies the District's philosophy that all CMSD employees are educators, even if they're not classroom teachers.
"Her work is a quantum leap beyond the narrow confines of the job description" Zohn said. "She does it with such joy in her heart, and when you're around her, you can't help but smile and feel better about this work of taking care of children."
As for Hicks, she said she is proud of the progress that girls like Louvear have made in boosting their self-esteem.
"She's grown into a beautiful young lady," Hicks said.
"Yes, I am a beautiful young lady," Louvear said.
"It's so good to hear you say that," Hicks said.
Have a story idea for the CMSD News Bureau? Send it to newstips@clevelandmetroschools.org.