Return to Headlines
New school to have space at MetroHealth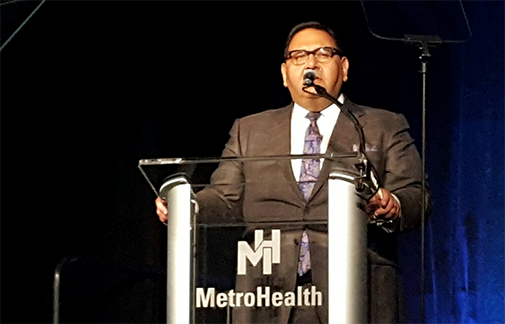 CMSD NEWS BUREAU
6/9/2016
CMSD's new Lincoln-West School of Science and Health will be based partly at the MetroHealth System's main campus.
District and hospital leaders believe the school, which will open July 25 with ninth- and 10th-graders, may be the only one in the country located within a hospital.
Tenth-graders will attend classes at MetroHealth three days a week, while ninth-graders visit weekly. The students will interact with professionals and observe the medical, business and other careers available in the healthcare industry. The juniors and seniors who come later will take coursework at Lincoln-West and online and serve internships.
"The Lincoln-West School of Science and Health will expose students to the hundreds of jobs available in healthcare, jobs that will guarantee them a sound and safe future," Dr. Akram Boutros, MetroHealth's president and chief executive officer, said at annual stakeholders meeting Thursday at the Global Center for Health Innovation. He listed the school among accomplishments and plans that address the health and well-being of Cuyahoga County residents.
CMSD Chief Executive Officer Eric Gordon said: "Our scholars thrive in learning environments that are active and engaging.
"Opening this high school with MetroHealth will allow students to explore firsthand the career options that are available to them in health care if they successfully complete their studies. We are grateful to the hospital system for this unique opportunity."
The small school is one of two new models that will share nearby Lincoln-West High School. The Lincoln-West School of Global Studies is the other model.
Carnegie Corporation of New York
gave CMSD $3 million to develop and launch the small schools as well as a new model for the Old Brooklyn neighborhood. The Old Brooklyn school is to open in 2017.
The Lincoln-West School of Science and Health is expected to start with about 150 students. The limit is about 125 per grade.
At MetroHealth, classes will be conducted in classrooms and a laboratory previously used for training.
The two Lincoln-West schools will run year-round. Students will generally alternate 10 weeks of classes with three-week breaks.
Despite its name and emphasis, students who graduate from the School of Science and Health will not be limited in their college and career options.
At the end of their ninth-grade year, students will select from among several academies, or pathways, like health sciences, business and communication and fine arts, Principal Chris Thompson said.
Before graduating, they will present portfolios of learning and experiences from their school careers. Thompson said these will include education and volunteer service in the Cuyahoga Valley National Park, study of community issues, internships and college applications and tours.
Both schools will feature mastery learning, in which students will advance as they demonstrate mastery of content.
Thompson previously led the high school portion of the
SEED School of Maryland
, a public, college-preparatory boarding school for students in the sixth through 12th grades. He said the chance to start a program from the ground up was one of the reasons he came to Cleveland.
The School of Science and Health expands a partnership that includes providing medical services at Lincoln-West and 13 other schools. The hospital also has hosted mentoring and job-shadowing programs the last two years.
The school will not be the first in the District to set up shop in an unconventional or real-world setting.
MC²STEM High School houses its ninth-graders at the Great Lakes Science Center, 10th-graders at GE Lighting's Nela Park and 11th- and 12th-graders at Cleveland State University.
Campus International, an International Baccalaureate School, is also located at Cleveland State University.
The school, which will offer kindergarten through eighth grade this year and grow to include high school, serves as a laboratory for CSU faculty and students. CMSD is building a new four-story school for K-8 students that is to open on the campus next year.