Return to Headlines
Lincoln-West Global Studies sends first delegation to Model UN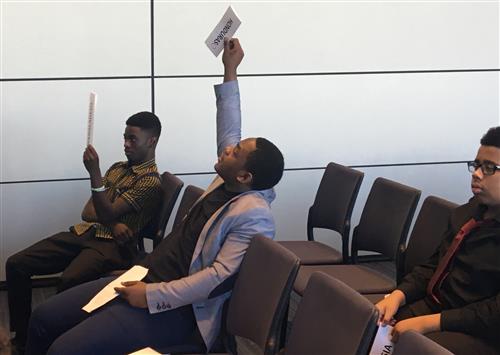 CMSD NEWS BUREAU
3/13/2017
When Lincoln-West School of Global Studies freshmen arrived at their first-ever Model UN conference, they were met with hundreds of upperclassmen and students with years of experience as mock-delegates.
Rather than be intimidated, the group of nine Global Studies students, clad in their best business attire, stepped up to the challenge and made their voices heard.
The high school, which opened last fall, made its Model UN debut at the Cleveland Council on World Affairs' two-day conference last week at Case Western Reserve University, where they joined about 500 other students from 30 schools across Ohio.
The students worked alongside their peers from private and public schools to represent the interests of their assigned countries in scenarios involving terrorism and human rights. While many of the other delegates were older or more experienced with Model UN, the Global Studies students held their own.
Enahjae Beasley was one of the first students to stand up at the microphone and share ideas about fighting terrorism on behalf of his country, Saudi Arabia.
"It's very competitive," Beasley said. "But it's cool to see a bunch of different kids that you don't see every day. I've always been interested in what's going on outside my house and outside my city."
Beasley said this was his first Model UN experience, but he hopes it won't be his last.
That's also the hope of Dan Jenkins, who teaches the Model UN class at Global Studies. Jenkins and his class have spent the last few months preparing for the conference by doing research and reading articles on their assigned issues. The class attended one of the CCWA conferences in the fall to observe.
They've also received guidance from CCWA, which is one of the school's community partners. The program manager for CCWA's Model UN program visited the class to help the students prepare for their first conference and answer questions about what to expect, Jenkins said.
CMSD's Facing History New Tech High School was also represented at the conference by a group of students from grades 9-12 who are members of the Model UN club. It was that school's second time at a CCWA Model UN conference.
Students from Denison and Riverside schools participate in CCWA's middle school conference.
Global Studies principal Irene Javier said exposing students to this type of hands-on experience is exactly what the school is about.
"This is anchored with our mission to prepare adolescents to become knowledgeable, emphatic and principled adults who think critically and act creatively on issues of local and global significance," Javier said.
Jenkins said as the program and the school grow, he wants to send students to national and international Model UN conferences.
The trip across Cleveland to University Circle, where Case is located, was a big deal for some students who haven't ventured far from their neighborhoods, Jenkins said. While others, including two students from Democratic Republic of the Congo, have already been exposed to different cultures.
"Some students think the whole world is like their hometown," Jenkins said. "We don't want them to graduate without having left their hometown. That's why Model UN is great -- it's exposing them to how the world works."
The Lincoln-West School of Global Studies opened along with the Lincoln-West School of Science and Medicine
CMSD opened the Lincoln West School of Global Studies and the Lincoln-West School of Science and Health this school year with support from Carnegie Corporation of New York. The schools added to the District's "portfolio" of school options, part of the
Cleveland Plan'
s promise to provide students with choices so they can find the right fit.