Return to Headlines
Parker Hannifin helps Say Yes recipients at CSU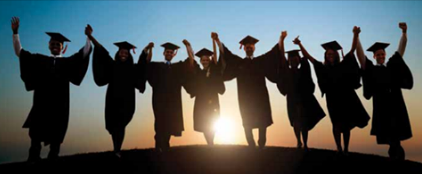 CMSD NEWS BUREAU
3/7/2019
Thanks to the Parker Hannifin Corp., some recipients of the new Say Yes to Education tuition scholarships will also get two years of free campus housing and other support services at Cleveland State University.
A $5 million gift from the Parker Hannifin Foundation will provide free campus housing during students' freshman and sophomore years, along with mentoring and other assistance that prepares them for careers. The program will aid 40 incoming freshmen per year through 2026.
Cleveland celebrated on Jan. 18, when a city steeped in poverty was named the fourth U.S. chapter of Say Yes to Education. Starting with the Class of 2019, qualified CMSD graduates can receive up to the full value of tuition at public colleges, universities and Pell-eligible certificate programs in Ohio and more than 1,100 private colleges and universities across the country. But expenses such as housing, books and meals are not covered.
CMSD Chief Executive Officer Eric Gordon hailed the new addition at CSU, which is called the Parker Hannifin Learning Community.
"It is a great example of how the Cleveland area has come together around Say Yes to Education and the promise it holds for our students," he said. "Students who want to live on campus now have access to that option, as well as mentoring and other critical assistance."
The gift is part of an existing Parker Hannifin commitment to CSU. Parker Hannifin Chairman and CEO Tom Williams said the company takes pride in a contribution that will "make a significant impact on the future success of Cleveland public school students."
Research shows that students who live on campus stay more engaged and persist in their studies. "We are grateful to our longtime partners at Parker for making this investment," CSU President Harlan Sands said.
To receive the scholarships from Say Yes Cleveland, students must live in the District and remain continuously enrolled in a CMSD or partnering charter high school. For the next freshman class, the enrollment must begin with ninth grade.
Say Yes also will align community services to help students and families overcome barriers to success in high school. Examples of possible services include in-school medical clinics, legal assistance, mental health counseling, tutoring and after-school programs.
Interest is strong. More than 1,800 seniors, a majority of this year's graduating class, have applied for scholarships. College Now Greater Cleveland, which operates a mentoring program, is seeking more than 1,100 new mentors to help work with scholarship recipients.
The scholarships are to be in effect for 25 years, or two generations of graduates. Say Yes Cleveland has raised almost $90 million for the scholarship endowment but needs a total of $125 million.
For more information on the scholarships, volunteering to mentor or donating, go to sayyescleveland.org.