Return to Headlines
PRE4CLE celebrates fifth anniversary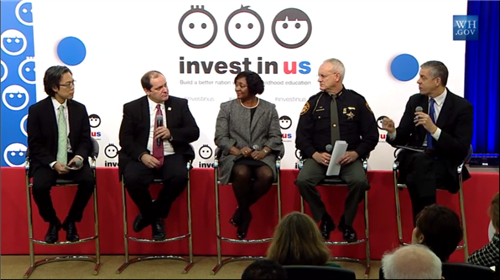 District CEO Eric Gordon discusses early childhood education at a White House summit on the subject in December 2014.
CMSD NEWS BUREAU
3/11/2019
PRE4CLE, a network made up of CMSD and private providers, is celebrating five years of expanding access to high-quality preschool in Cleveland.
Mayor Frank G. Jackson, District Chief Executive Officer Eric Gordon and other leaders announced formation of the network on March 11, 2014. They said a good start is critical to helping children succeed in school.
"We know we can't remediate our way out of a challenge," the CEO said at a news conference announcing the launch of PRE4CLE. "Instead, we have to help our children arrive ready for kindergarten."
PRE4CLE promotes high-quality preschool to families while working with providers to strengthen their programs. In December 2014, during a White House summit on early childhood education, then-President Obama praised PRE4CLE as a top example of "bringing entire communities together on behalf of children."
The network's most recent annual report, released last August, said the number of high-quality preschool programs in Cleveland had more than doubled to 131 in the previous two years. (Read the report here.)
The report also said that the number of children enrolled in high-quality preschool had jumped by 69 percent since the network was launched. More than 4,800 children -- nearly two-thirds of those attending preschool – were enrolled at sites designated as high quality.
PRE4CLE defines high quality as earning at least three stars on the state's Step Up to Quality rating system. Of CMSD's 63 sites, 50 have received the maximum five stars, and the rest are expected to follow when they are rated.
The annual report showed that while high-quality preschool is meeting benchmarks that PRE4CLE and the community have set for growth and performance, more work remains. While the number of children in high-quality seats represented a majority of those who attend preschool, it was only 42 percent of the children in that age group.
Preschool age is a critical time in brain formation and the development of early literacy and math skills, as well as social skills like communication and teamwork. The Cleveland Plan, a customized blueprint for education reform in the city, calls for expanding high-quality preschool so children are prepared for kindergarten and beyond.
Have a story idea for the CMSD News Bureau? Email it to newstips@clevelandmetroschools.org.