Return to Headlines
Program helps teen refugees adjust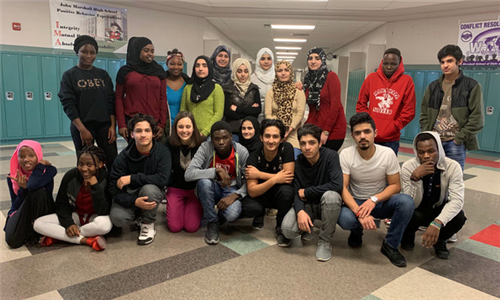 CMSD NEWS BUREAU
3/18/2019
Every Tuesday and Thursday, 26 students remain after classes at the John Marshall high school campus for two hours -- by choice. They hunker down over mobile devices or pencil and paper, listen intently to their instructor or guest speakers and freely join in discussions.
These teenagers, all refugees, are newcomers to America. And they are eager to learn how to make their way.
Refugee Response, a nonprofit group that seeks to ease the challenges of resettlement, started the pilot project -- Teen Response -- this year with support from the JoAnn and Robert Glick Family Fund at the Cleveland Foundation. The program helps the students adjust to a new culture and system of education while also preparing for college and career.
Teen Response program manager Emma Vogel added a splash of reality to career planning in a recent session, walking teens through some of the living expenses that the wages of their chosen occupations will have to cover. The numbers climbed as they added in market rents in Cleveland, food, Wi-Fi.
The students – 19 female, seven male -- come from Syria, Sudan, Congo, Afghanistan, Iraq, Tanzania and Somalia. and are among about 900 CMSD students who are classified as refugees. Initially, Vogel was to be present only for the classroom work on Tuesdays and Thursdays, but the students have so many questions she typically reports five days a week, assisting them informally at other times with homework, discussion of career interests or applying for jobs.
"These students are extremely motivated," Vogel said. "They have straight up told me that they don't understand why other students are talking in class when their teacher is speaking. They say, 'Don't they know some people in other countries don't have access to education?' "
Beneziane, a 10th-grader from the Congo, said talking out of turn was punishable by a beating in her home country. But it is not fear that fixes her focus.
"I'm a student who pays attention and will ask a lot of questions," said "Benny," who enjoys solving math problems or examining American history from different perspectives. "I like to understand what the teacher is talking about."
The students have been in the country for a few years and appreciate its freedoms. They have experienced oppression; they have seen what happens when violence is used to secure or maintain power.
Mohammad, a 10th-grader from war-torn Syria, said his family walked 12 hours to Jordan, spreading the journey over two evenings so they could use the cover of darkness to hide from military snipers.
He hopes someday to own a Syrian-American restaurant that would provide his family with jobs and let his father, who has heart problems, cut back on work.
"I want to finish high school, I want to finish college," said Mohammad, whose family rejoiced at the recent announcement of Cleveland's Say Yes to Education scholarships. "I'm not going to let anything stop me."
While the students are becoming increasingly proficient in English, the skill does not necessarily come without struggle.
At first, Islam, a 10th-grader from Syria, knew only a few words or phrases like "Hi" or "How are you?" Determined to learn the language, she culled meaning from conversations overheard on the bus and the lyrics of American music.
English is one of her favorite subjects, along with biology and U.S. history, a history she feels obligated to learn. In addition to her studies at John Marshall, she takes courses for credit at Cuyahoga Community College, earning A's and B's.
"I have confidence in myself, I trust myself," Islam said. "I know what I am doing and what I am going for."
Her goal is to become an immigration attorney, so she can help others find a better life. That's why on a recent Friday afternoon, she eagerly took her place among eight students from Syria and Sudan at a bonus session featuring Joseph Mamari, an Arabic-speaking immigration attorney.
Mamari can empathize with the students, having come to the United States from Syria at the age of 15, from the same region as most of the students. He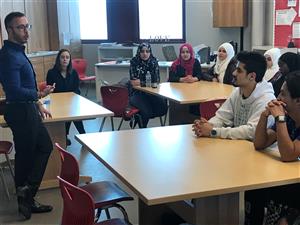 often used Arabic to make them more comfortable.
He inquired about their career aspirations and was impressed that their plans were geared to benefitting others – for example, helping to protect the rights of newcomers or supporting their families. He advised them not to limit their options.
"In our culture, you're not successful unless you are a doctor or a lawyer," Mamari said. "That's wrong. Choose a field that makes you happy and go for it."
Those who want to be attorneys should be prepared to study long and hard, Mamari said. The advice was not intended to frighten them, he said, it was meant to encourage advance planning.
Vogel monitored the students' technique, praising them for making eye contact or speaking loudly enough to be heard. She encouraged them to speak before groups whenever possible, to "talk about yourself, what you're good at and what you want to do someday."
Observing from the back of the room, Refugee Response Executive Director Patrick Kearns said he would like to continue the program. But he is not sure whether that means staying only with John Marshall and going more in depth or spreading the same level of service to additional schools. He is also exploring an after-school program for elementary school students.
Kearns formerly taught in Southeast Asia, working with youths exiled from Myanmar. He made teenagers the focus of the John Marshall pilot, knowing that the age is hard enough, let alone when you have been routed from your home country and forced into refugee camps.
"It's one of the most challenging times in your life, even if you haven't come from a background like this," he said. "It's really important to catch people at this age, to provide them with some structure and hope for the future."
Hope seems to fill the classroom where the teenagers meet. Mohammad, who has grown increasingly comfortable with expressing his thoughts, exudes both hope and gratitude in a piece he has written about his journey.
"I thank the United States for returning my dream of studying and allowing me to go to school," he wrote. "Now I have a chance to achieve everything I want."
Have a story idea for the CMSD News Bureau? Email it to newstips@clevelandmetroschools.org.