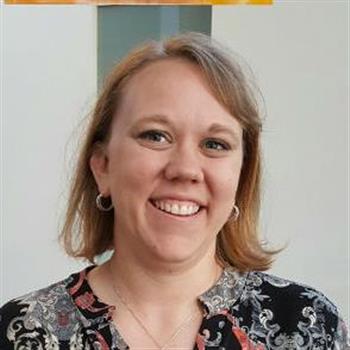 Phone:
Email:
Degrees and Certifications:
B.A. - Wheaton College (Spanish) M.A. - Cleveland State University (Spanish Literature & Culture)
Sarah Schwab

I grew up in a small town just outside the Chicago suburbs. When I was ten, my family moved to northeast China for a year where my parents taught English. My younger brother and I were the only American children in a city of nearly 3 million people so it was important for me to learn some Chinese and to learn about the Chinese culture so that I could meet other kids and have friends. It was that experience that began a lifelong fascination for language and culture. It wasn't until high school, though, that I had the opportunity to formally study a language. I chose Spanish. I absolutely love that I can speak to so many people in their native language, learn how they see the world, and learn more about myself because I know another language!

During college, I studied in Costa Rica for a semester. It was an opportunity to experience firsthand much of what I had learned about in my Spanish classes. After graduating, I taught in various schools in Illinois for about five years. During that time I took a group of students to Mexico to offer them a similar experience to see their Spanish class in action.

In 2006, my husband, oldest son, and I moved to Cleveland where my husband is a pastor at a downtown church. Since then I have had three more sons, finished a Masters degree at CSU, studied for a summer in Spain, and taught Spanish at Hathaway Brown School in Shaker Heights for 11 years. There I had the opportunity to take students to El Salvador, Nicaragua, and Spain.

We love living in Cleveland! It is a city rich in history and culture. Some of my favorite things include shopping at the West Side Market, hiking and biking in the Metroparks and CVNP, exploring museums like the Cleveland Museum of Art or the Western Reserve Historical Society, being a part of the bustle downtown, and learning about the history of the city, especially how various cultural groups have settled and left their mark in the city.

I am thrilled to be able to be a part of the founding of Campus International School's Upper Campus and to experience all the excitement as well as challenges of starting a new IB school. For me, this opportunity is special because it is a way that I can serve the community in which I live.