Return to Headlines
Wade Park earns $10,000 grant from Browns, ADA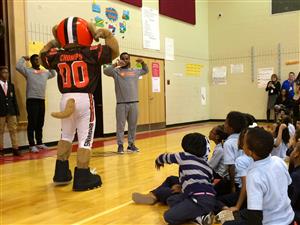 CMSD NEWS BUREAU
12/8/2015
Wade Park School students' good attendance – and healthy appetites —have earned the school $10,000.

The Cleveland Browns Foundation and the American Dairy Association presented Wade Park with the grant Tuesday for winning a competition among CMSD schools to increase the number of breakfasts they serve.

Participating schools had typically served cold items like cereal and fruit. Hot dishes such as egg sliders and sausage were added for the contest, held Nov. 16-20 as part of the Fuel Up to Play 60 wellness program created by the National Dairy Council and the NFL.

The breakfasts also acted as an incentive for the District's "Get 2 School. You Can Make It!" attendance campaign.

Wade Park, located at 7600 Wade Park Ave., more than doubled the number of students who ate breakfast, placing it well ahead of other schools in the competition. And the school's attendance, which was already good, climbed to nearly 95 percent for the week.

As an extra reward, Browns defensive backs Johnson Bademosi and Ibraheim Campbell appeared Tuesday at a half-hour assembly and interacted with students.
Hot breakfast joined a menu of incentives that Wade Park employed to boost attendance during the contest week.

Students who logged perfect attendance for the week were rewarded with a dress-down day the following Monday. Those who made it all the way to Thursday got to attend a dance after lunch that day.

"It was a 20-minute dance," Principal Lee Buddy Jr. said. "It's crazy, but it works."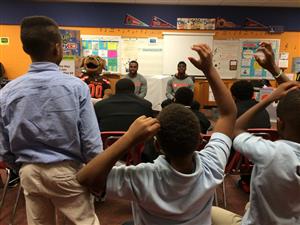 Buddy plans to use the prize money to update technology. To maximize access, he is focusing on portable items like laptops and tablets.
The prize is based on a week's statistics but reflects steps Buddy and his staff have taken to promote attendance since the start of the school year.
Classrooms – usually the majority, Buddy said -- that average more than 93 percent attendance for the month are treated to an ice-cream social or pizza.
Good attendance also earns students Eagle Bucks (named for the Wade Park mascot) that can be used to purchase school supplies, healthy snacks, or spirit T-shirts and sweat shirts in an in-house shop.
To maintain interest among middle-school students, Wade Park opens the gym for a half-hour of basketball before school at 7 a.m. weekdays. Maybe 20 or more are waiting when the doors open, Buddy said.
"Get 2 School. You Can Make It!"
is showing signs of success
in fighting chronic absenteeism, defined as missing 10 or more days in a year. District data shows that missing 10 or more days in a year reduces scores on state tests and increases the chances that high school students will fail to graduate.
For more information on the attendance campaign, go to
www.get2schoolcleveland.com
.