Return to Headlines
Student's writing to become film through Scenarios USA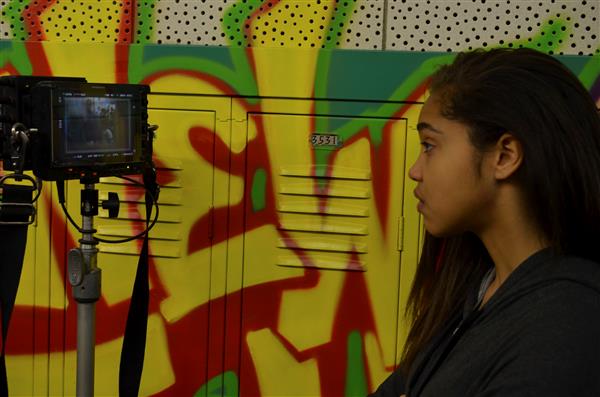 CMSD NEWS BUREAU
12/27/2016
Facing History New Tech High School
was transformed into a movie set this month as a Hollywood film crew helped bring a student's short story to life. The student, senior Mayraleeh Nelson (pictured above), is the winner of the 2016 Scenarios USA writing competition.
Scenarios USA is a national nonprofit organization that uses writing and film to foster youth advocacy, healthy decision-making and self-expression in students across the country, with a focus on marginalized communities. Students in sixth through 12th who complete the "REAL DEAL" curricula can enter the contest, and hundreds of submissions are reviewed by a team of writers and filmmakers.
Nelson has been working with the Scenarios crew since August, when she first met with the director and started scouting her school and neighborhood for filming locations. She and the director worked together the next few months to write and edit the script and hold auditions for the roles, all of which are played by students in the Cleveland area.
Nelson's film is expected to be featured at the Cleveland International Film Festival next spring and at a film festival in New York City.
The film, titled "Split Persona," explores themes like depression, family troubles and the idea that things aren't always as they appear on the surface. It centers on twin sisters whose mother is suicidally depressed. The twins appear to have opposite personalities -- one sister is the polite, charitable "golden child" and the other is the rebellious, mischievous one -- at least on the outside. But at home, only one daughter cares for the mother, and it's not the one who most people suspect.
Nelson said she was inspired after she noticed that few people discuss the toll that mental illness can take on a person's friends and family. She wanted to shed light on the chaos and trauma faced by teenagers who are dealing with the stress of high school and growing up while also coping with a family member's mental illness.
"What I want people to take away from the story is that you don't ever know what's going on in people's lives," Nelson said. "We as a society should never assume that a child's life is perfect."


Nelson said she was partly inspired by her experience growing up in Cleveland, which she said also follows the theme of "Split Persona."
"You see a lot of things in Cleveland -- both good and bad," Nelson said.
And in Cleveland, too, things might not always be what they seem, she said.
"In this city, even if a school is rated poorly, you see the most inspirational kids come out of those schools," Nelson said. "There's always two sides -- whether it's people, cities or opportunities."
Nelson discovered her love for writing in third grade at Buhrer Dual Language Academy. She remembers spending free time at school writing poems and short stories.
She credits Facing History for opening her mind up "more than the average teenager." Nelson said the school, which has a philosophy of inclusion, diversity and social justice, encouraged her to be herself and pursue her interests.
"At Facing History, we're never turned down for expressing our thoughts and opinions," Nelson said. "I feel like I have a village of mentors here to help shape me."
Nelson is the second Scenarios USA winner to come from Facing History. Last year, then-senior Skyler Edge won the contest with a story he wrote about an African-American teenager with a fluid, or shifting, gender identity navigating bullying, violence and rejection from their father and peers before finding the courage to come out.
The short film was aired at 13 film festivals around the world, won three awards and was featured at seven conferences.
See the gallery below for photos from the shooting of Nelson's film at Facing History (courtesy of Scenarios USA and Megan Waddel).