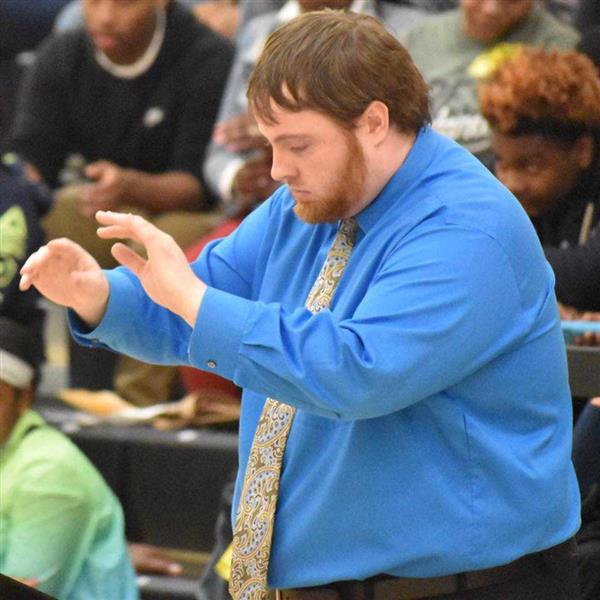 Phone:
Email:
Degrees and Certifications:
Mr.

Shawn Brandt

"Mr. Shawn Brandt has been a resident of the Northeast Ohio area his whole life. He began playing saxophone in the 3rd grade and violin in the 4th grade. He switched over to double bass and baritone sax. In the 7th grade, he switched to tuba, which he played all throughout college. Mr. Brandt went to Parma Senior High School, then went to Baldwin Wallace College to pursue a degree in music composition. At BW, he played in the concert wind ensemble, symphonic wind ensemble, and brass choir. After this studies at BW, he pursued a masters in music composition from the University of Akron. The Akron New Music Ensemble premiered his piece, "Collage" during a university-wide concert. Mr. Shawn Brandt worked as a graduate assistant at Akron, which is where he fell in love with teaching. He earned his teaching license from Cleveland State University.

After graduating from CSU, Mr. Brandt was hired by a local charter school in Parma and taught general music K-12 there for two years. Mr. Brandt hosted the school's Holiday Program and Talent Shows. The following year, Mr. Brandt taught at another charter school in Cleveland. He taught general music, band, and choir to students in grades 5-8. He hosted the Christmas and Spring concerts which were well-received by staff, students, and parents. Mr. Brandt then applied to teach in the Cleveland Metropolitan School District teaching at Whitney Young Leadership Academy and Charles Eliot. The following year, Mr. Brandt was placed at Albert Bushnell Hart due to Whitney Young losing its music program.

Outside of teaching, Mr. Brandt enjoys playing in his jazz trio on the weekends. In his spare time, he enjoys camping, hiking, swimming, stargazing, and planespotting. He also enjoys composing, arranging, and recording music, having recently just arranged the Star War's Cantina Band Song for recorder quintet.

Mr. Brandt feels at home at Albert Bushnell Hart Elementary. The staff, students, administration, and parents are all welcoming. I am eager to work with your students, and watch them grow as musicians and people!"