UPCOMING PERFORMANCE!!!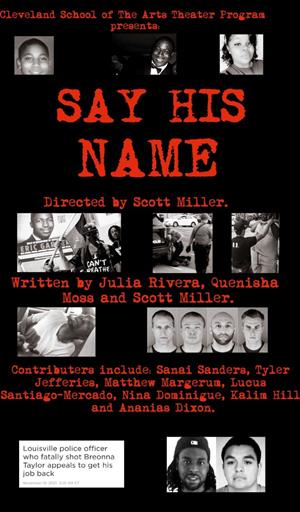 CLEVELAND SCHOOL OF THE ARTS THEATER PROGRAM PRESENTS: SAY HIS NAME
When Malcolm, an unarmed young black man is killed by a white policeman, his death upends the lives of those he knew and others he never met. While his heartbroken cousin Joseph is urging restraint, his sister Ariel and Malcolm's girlfriend Nia seek revenge. The daughter of the female Chief of Police attends a march the next day that turns violent, landing her in jail along with her girlfriend, putting her mother's job in jeopardy. Meanwhile the white policeman's wife, who is black, wonders if she ever really knew the man she married. SAY HIS NAME, co-written by theater students and Dr. Miller, explores the nature of guilt and our understanding of the complexity of human relationships.
Show dates and times:
Friday, December 10 at 7:00 pm
Saturday, December 11 at 4:00 pm and 7:00 pm
Sunday, December 12 at 3:00 pm and 6:00 pm
Tickets are free.
Reservations are REQUIRED.
To reserve tickets email: ruby@clevelandschoolofthearts.org
SAY HIS NAME will be performed in the CSA Black Box Theater. All audience members are required to wear a mask that covers their mouth and nose. Thank you.
ADMISSION INFORMATION
Prospective students apply to CSA by completing a CMSD High School Choice Application at: https://www.clevelandmetroschools.org/choosecmsd. Students will use the link in the application to submit a virtual audition video. Students who pass the initial audition will be contacted for a scheduled interview and call back.
ANNOUNCEMENTS FOR CURRENT STUDENTS/STAFF
Students/families-please remember to plan for transportation as the weather is getting colder. For safety reasons, students are not able to wait inside the building after dismissal unless attending an after school activity supervised by an adult.
RTA Tickets-students should be getting RTA tickets from their adviser during their scheduled advisory period each week. Students can also ask for RTA tickets in the planning center or main office.
IMPORTANT LINKS:
Wednesday All School Assembly-students & staff check email for private link and sign into Zoom with your email for entry.
Click HERE to Sign Up for your Quarter 2 Mini HERE!
Click HERE to make a COVID and Community Safety Report.
Click HERE to sign up to become a vendor for the first-ever CSA POP UP Shops!
Click HERE for the CSA Suggestion Box.

PERFORMANCE LINKS:
View Festival of New Works (or the CSA Pandemic Festival) Student
Performances and Artwork
Click Here to View Theatre Performances
Click Here to View 11th-12th Grade Gallery
Click Here to View 10th Grade Gallery
Click Here to View 9th Grade Gallery
Click Here to View Integrated Arts Showcase
Creative Writing Coming Soon!
Click Here to View Senior Dance Performances
We would like to offer Special Thanks to Our Generous Sponsors & Supporters of the 2021 Festival of New Works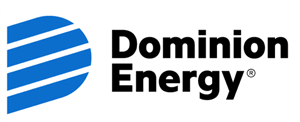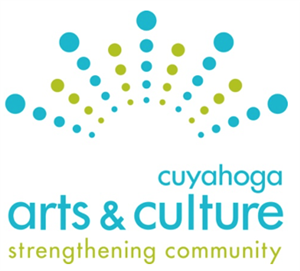 Martha Holden Jennings Foundation
Victor C. Laughlin, M.D, Memorial Foundation Trust
The Meisel Family
David and Inez Myers Foundation, Cleveland, Ohio
Thank you for generous support, reaching CSA's artist scholars and professional local artists. Special thanks is expressed as the CSA Festival of New Works is supported in part by the residents of Cuyahoga County through a public grant from Cuyahoga Arts & Culture. It was also made possible in part by state tax dollars allocated by the Ohio Legislature to the Ohio Arts Council (OAC). The OAC is a state agency that funds and supports quality arts experiences to strengthen Ohio communities culturally, educationally, and economically.
We also thank YOU, for joining us to experience amazing art, created by Cleveland's own talented youth.
Together we celebrate CSA!
*******************************************************************
Please click here to take the CSA is Turning 40! Engagement Survey!
---
The Cleveland School of the Arts is an arts high school in the Cleveland Metropolitan School District (CMSD), serving students by incorporating the arts into its daily curriculum.
100% of the Class of 2019 graduated
100% of CSA graduates are accepted into higher education institutions
Students participate in the College Credit Plus program and High Tech Academy at Cuyahoga Community College
CSA is recognized by Accelerated Reader leaders for success
Students produce, perform, present, and exhibit their work in annual offerings at the school and in community venues
VIEW THE CSA FAMILY SCHOOL COMPACT and School Parent and Family Engagement Policy HERE: CSA Family School Compact School Parent and Family Engagement Policy