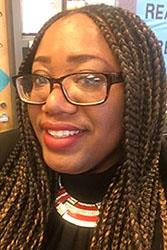 Phone: 216.838.1750
Email:
Degrees and Certifications:
Shadonna Griffin

Ms. Griffin became involved in the field of education over 10 years ago. One of her core values in education is that each scholar has a gift, it is our job as educators to help them realize what they are and to nurture those 'gifts'. She believes that this should be true for staff and our families also. She works to create an environment where the culture and climate in the classroom promotes that growth. Being relatively new to the field of education, she thrives to be an individual that scholars can look to for meaningful knowledge and provide them with opportunities to become lifelong learners. She strives to create and maintain healthy relationships with her scholars, peers, and families.

Ms. Griffin's commitment to the education of the "whole child" and families of Cleveland is seen through her experience as a Program Assistant for the Cuyahoga County Office of Early Childhood (Invest in Children), Council for Economic Opportunities in Greater Cleveland (CEOGC) Board Member, and serving as a former PRE4CLE Parent Representative Compact Member. As a CEOGC Board Member, her experience extends to moderating parent workshops in collaboration with local organizations. As a former Wade Park scholar and product of the Cleveland Metropolitan School District, she hopes to model "grit" for her scholars, to encourage them to pursue their dreams no matter what opportunities and challenges may come their way.

Ms. Griffin has Bachelor of Arts degrees in Political Science and Economics as well as Master's degrees in Public Administration and Education Administration. Ms. Griffin hobbies extend to reading, art, sports, and traveling. Ms. Griffin is the mother of an amazing 11- year old daughter Mackenzi.