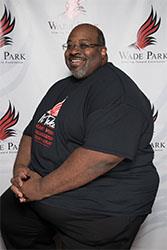 Phone: 216-838-1750
Email:
Degrees and Certifications:
Jason Sephus

Jason Sephus earned an undergraduate degree in Marketing from Cleveland State University. He attended Cambridge University to earn a master's degree in Literacy and Education. He has been an educator for the Cleveland Metropolitan School District for 24 years. Mr. Sephus has been teaching at Wade Park Elementary for 9 years. He has been a primary grade level teacher, facilitating the education of students in grades 1 through 5. His philosophy of teaching students the major core subjects of reading, math, social studies, and science embraces the foundations of STEM with an emphasis on using various applications of technology. He especially enjoys engaging and teaching students using hands-on materials and manipulatives, project-based, real-world activities, teaching subject matter, and guiding student's interests using online resources.

Mr. Sephus' mission is to develop every student's learning potential in their formative years. He strives to help each of his students achieve beyond their potential to attain their grade level instruction and develop both socially and emotionally. To facilitate his students learning needs, he uses 21st-century teaching and learning practices that allow student's opportunities to become independent learners and practitioners. He is a lifelong learner that imparts his knowledge into his students to build a strong educational foundation and career path towards fulfilling the Cleveland Metropolitan School District's mission of producing successful high school graduates.