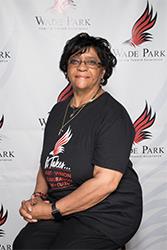 Phone: 216.838.1750
Email:
Degrees and Certifications:
Helen Robinson

Mrs. Robinson is an Intervention Specialist who is dedicated and committed in her heart and actions to teach her scholars to be lifelong learners. She is extremely passionate about helping scholars develop their highest potential and beyond. She is always striving to assist them in reaching their goals and dreams as well as instilling the desire to become problem solvers and readers. She also encourages her scholars in a calm positive manner with social-emotional support while promoting a growth mindset as they "Choose Greatness".

Previously, Mrs. Robinson has taught as a Title I Reading and a Reading Recovery teacher. As a Reading Recovery teacher, she co-authored a book with others called, "HomeLink: Home Activities for the Emergent Reader". She was also featured in the 2000 January/February issue of the Catalyst Cleveland Magazine about the Reading Recovery program.

As an Intervention Specialist, Mrs. Robinson was the coordinator of a tutoring program called, "Project MORE" (Mentoring in Ohio for Reading Excellence) and presented at the Bowling Green State University's Project MORE conference for 2 years on Peer Tutoring in 2009 and 2010. In 2005, Mrs. Robinson contributed ideas to a book dedicated to families, our first and most important teachers, composed by Cleveland Metropolitan School District called, "Family Talk-a-Lot Book".

Mrs. Robinson was chosen in 1987, 2000, and 2003 as a Martha Holden Jennings Scholar to attend lectures from distinguished presenters from universities, government, and businesses from across the nation which was held at Cuyahoga Community College. Recently, she was awarded the Excellence in Teaching Award for 2019.

Mrs. Robinson graduated from Bennett College with a degree in Special Education. She earned a Masters Degree in Early Childhood Education from North Carolina A & T State University as well as attending other universities, webinars, and professional development sessions to continue her passion for learning.

Reading, listening to music, spiritual sites, and exercising are some of Mrs. Robinson's fun, enjoyable, and relaxing hobbies. She also collects children's books and educational resources in which she collaborates with others because she truly believes the quote of a motivational speaker, Les Brown, "You Can Always Better Your Best".