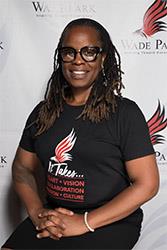 Phone: 216.838.1750
Email:
Degrees and Certifications:
Erla Burson

Erla Burson is a School Secretary who works with the caregivers, families, scholars, community partners, teachers, and the principal to provide them a wealth of information pertaining to Wade Park School. She believes in providing great customer service with a smile, to every person who enters the office. Always taking that extra step to make customers feel that she understands what they are going through and she wants this to be the best customer service experience they ever had.

Erla has supported Wade Park with the vision of providing creative and innovative approaches to learning by volunteering with many of the enriching activities provided to scholars and families. Erla has been a School Secretary for the Cleveland Metro School District for three years. She plans to go to school to become an Intervention Specialist.

Erla is a loving educator that treats everyone like they are her family. She is a single mother of four children; two girls, 27 and 20, and two boys, 19 and 18. In her spare time, you can find Erla laughing, reading a book, relaxing out in nature, or looking up new vegetarian recipes.