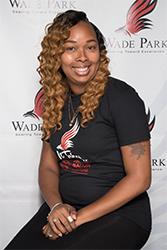 Phone: 216.838.1750
Email:
Degrees and Certifications:
Tanesha Madden
Tanesha Madden-Stewart has devoted the last 13 years of her career with Cleveland Metropolitan School district and helping to furthering the education and future of Cleveland children.

Her higher education was started at Akron University where she studied in Early Childhood Education, later attending

Strayer

U

niversity and switching majors to Business Administration with a con

centration

in Management.

Upon joining the CMSD team, t

he first 9 years were spent as an Instructional Assistant in a self-contained SPED unit aiding in the education of

students who

needed more hands on and one on one support. The last 4 years has been spent as a PCIA Planning Center Instructional Aide where the focus is more on the Social Emotional Learning wellbeing of our students. Mrs. Madden-St

e

wart has been blessed to be a part of an amazing school that has a nurturing, loving environment where children can learn and experience new challenges that will help build their confidence while they achieve. She has also served as the head liaison over the America Scores after school program at Wade Park for the last 7 years as well as coaching several soccer and poetry teams. Mrs. Madden- Stewart hobbies include biking, working out, decoration, crafting and traveling. She is married to Ben Stewart and is also

the mother

to a son, Tijon (16) and a daughter,

Trejour

(10) whom has both attended Wade Park since Pre-K.