Return to Headlines
Facing History brings CMSD, Jewish day school students together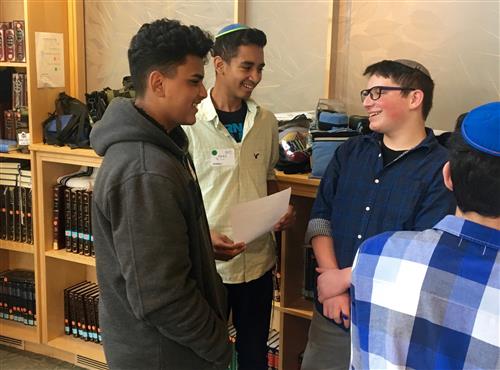 A Facing History New Tech student participates in interactive activities with Fuchs Mizrachi Stark High School students.
CMSD NEWS BUREAU
12/21/2017
There are certain things about being a teenager that transcend the boundaries of religion, race and geography.
That was one of the messages students from CMSD's Facing History New Tech High School took away from a morning spent with their peers at the Fuchs Mizrachi Stark High School on Shaker Boulevard in Beachwood. The visit was organized by the Cleveland network of Facing History and Ourselves.
The CMSD students left with the impression that they shared more similarities with the Fuchs Mizrachi students, most of whom practice Orthodox Judaism, than differences.
Luz, a Facing History New Tech ninth-grader, shared a conversation she had with a new friend:
"We talked about how we don't really like music that kids are listening to now. We prefer an old more genuine, style of music."
Both Facing History New Tech and Fuchs Mizrachi are part of the network and use the Facing History model in their schools, integrating lessons about racism, religious intolerance and prejudice into the curriculum.
The visit to Fuchs Mizrachi was about helping the students expand their "universe of obligation," a Facing History concept that refers to the individuals and groups to whom obligations are owed, to whom rules apply and whose injuries call for amends. For many students, it was a step out of their comfort zones and respective "bubbles," as one boy put it.
The students spent the day getting to know one another through guided activities and Facing History lessons. One activity asked students to talk about the origin of their names.
"The stories behind the Fuchs Mizrachi students' names were interesting to me because most of them are from the Hebrew Bible," said Sullymar, a Facing History ninth-grader. "My new friend's name means 'strength.' "
The idea to bring the students together was inspired by an October summit attended by students from the 12 schools in the Northeast Ohio Facing History Network to Ursuline College.
Facing History New Tech teacher Martha Verde said her students returned from the summit saying how exciting it had been to meet Fuchs Mizrachi students.
"They were only together for a short time, but they wanted to know more about each other," Verde said. "They said, 'It's too bad we can't get together again.'"
Across town in Beachwood, Fuchs Mizrachi students were telling their teachers the same thing about Facing History New Tech students. Eventually, teachers from the two schools connected via email and began meeting to plan the visit.
The group ended the day with a lunch that consisted of pizza and french fries made out of kosher ingredients. While they ate, the students read as a group an article about a real-life situation in which members of one community reached outside their community to show support and solidarity. It was the kind of activity that one might find in a regular class at either Facing History New Tech or Fuchs Mizrachi, but this time, it was happening in a blended environment, adding a layer of meaning to the readings.
The Fuchs Mizrachi students were also enthusiastic about spending time with Facing History New Tech students. Several of them mentioned that they don't often interact with teenagers from outside their community.
"We're not really exposed to many other cultures, races and religions," said Gabriella, a Fuchs Mizrachi student. "It's really nice to get to know high school students who live so close and practice the same teaching model."
The students said that while the "icebreaker" activities were helpful, it was the conversations that occurred between activities -- about topics like music and pets -- that were most enjoyable
"We're all in high school and going through similar experiences," said Leora, another Fuchs Mizrachi student. "I was talking to one girl about how I go to synagogue every week, and she said she goes to church every week. It was fun to see how we're different, but we do the same things."