Return to Headlines
Cleveland Indians hold mock job interviews for RCCA students
CMSD NEWS BUREAU
2/12/2020
It may have been a cold winter day in February, but many interviews took place Wednesday at Progressive Field.
No, the interviews did not involve Cleveland Indians players and the media; rather, Indians employees interviewed students from Rhodes College and Career and Academy.
"It is a way for the Indians to give back to the community and keep kids engaged in school and thinking about a career early on," said Rebecca Kodysh, executive director of community impact for the Indians.
Before the mock interviews, held in the Drug Mart Suite overlooking the baseball field, the students learned more about the organization and the various departments needed to operate the team.
"We run a fairly large organization with a lot of different pieces and parts, whether it is human resources, communications or the food piece of it," said Kodysh. "There are so many different things that we do that are applicable to people who are building a career."
Kodysh added that this career day was intended to expose the students to another career track and an organization in Northeast Ohio that is looking for talent.
"Not everyone wants to work in IT or the medical field," she said. "So, we want them to know there are other options. The people who work in sports, we landed here (working for the Indians) for different reasons. So we want to provide exposure that this is a possibility for them as well."
Jess Carter, manager of college and career success at Rhodes College and Career Academy, says the day was made possible by the Indians and Junior Achievement of Greater Cleveland.
"This is giving them opportunities to interview and be exposed to different opportunities for employment, plus building relationships that can take them into the future," Carter said.
Some of the questions asked during the mock interview inluded: How has school prepared you for the working work? How do you learn best? And what are your strengths?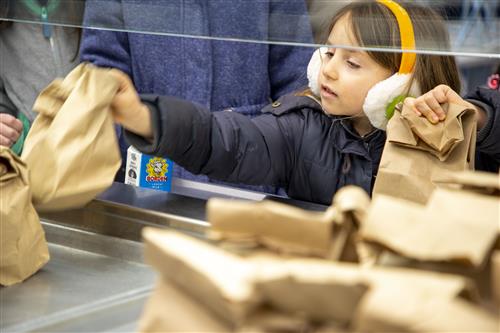 Darius, a junior at RCCA, says he had participated in one other interview, for a job at Subway, which he says he landed.
"I was very nervous for the first interview," said Darius. "Now when I came to this one, I felt like I had it down pat."
Hank Winters, who works in sales for the Indians, interviewed Darius. He said Darius impressed him with the confidence he displayed throughout the interview.
"I didn't feel like he was searching for answers," said Winters. "I felt like we had a conversation, which I think is what we are looking for when we are interviewing people."
Carter said a goal of this experience is for the students to become more relaxed and hone skills for future job interviews.
Have a story idea for the CMSD News Bureau? Email it to newstips@clevelandmetroschools.org.