Return to Headlines
NFL plants legacy at CMSD school
CMSD NEWS BUREAU
4/28/2021
A long-standing National Football League tradition took place at William Rainey Harper School, a day before the start of the league's draft, when it helped to build a community garden.
NFL Green, a division of the NFL, works to leave a positive "green' legacy in host cities where major league events take place.
"We are building seven raised garden beds, a pollinator garden, a shed and a fence, "said Susan Groh, associate director of NFL Green.
NFL Green, in partnership with Ohio State University's Summer Sprout program, the City of Cleveland and Verizon, donated all the materials to build this garden in a day.
Harper students and community partners worked side by side to plant fruits and vegetables and build the garden beds.
"I think it is great that we get to plant strawberries," said Avielle, a first-grader at Harper.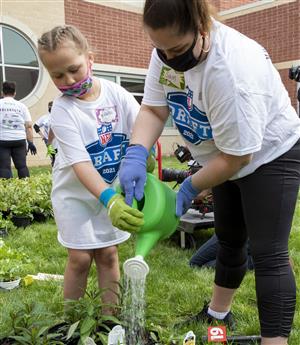 The garden will be used as a learning area and a place for hands-on learning.
"I am excited about the conversations I am having with teachers and the plans that they have for project-based learning and science projects," said Rachel Grech-Scott. As a model lead teacher, she supports educators with their instruction.
Harper's four-year plan to complete a garden was finished in a day thanks to generous donations of the NFL Green Team and community partners.
NFL Green's other projects include a North Harbor waterfront cleanup with Davis Aerospace & Maritime High School students. In partnership with PHASTAR, the Port of Cleveland and the Downtown Cleveland Alliance, students worked with instructors aboard 15-foot boats to clean the channel that runs behind the main Draft stage.
CMSD students will be well represented throughout the Draft festivites. The All-City Choir will sing "Life Every Voice and Sing" on Thursday, the first night of the draft. Two John F .Kennedy High School students will announce a draft pick on Day 3, and on Tuesday two other JFK students participated in a mental health panel discussion.