Return to Headlines
Board helps advance Say Yes bid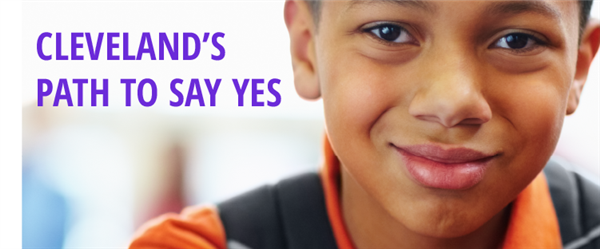 CMSD NEWS BUREAU
3/21/2018
The Cleveland Board of Education has taken a preliminary but important action that helps advance the city's bid to become the nation's fourth chapter of Say Yes to Education.
Say Yes chapters provide scholarships that high school graduates use to fill gaps in college tuition. But more importantly, the chapters coordinate community academic and social services that keep students on track to high school graduation, college or postsecondary education and careers.
The school board voted Tuesday to approve a memorandum of understanding. The memorandum paves the way for an agreement detailing how the chapter would be governed.
"This is a critical step on our path to becoming a Say Yes to Education city," District CEO Eric Gordon told the board, which met at Campus International K-8 School.
The memorandum commits to negotiating in good faith with partners on the governance agreement. Other entities asked to sign the memorandum include Cuyahoga County, the City of Cleveland, Cleveland Public Library, Cleveland Teachers Union Local 279 and the Cleveland Council of Administrators and Supervisors, an association of District officials.
CMSD, city and civic leaders believe membership in Say Yes would create a college-minded culture and give hope to many who view college or other postsecondary education as beyond their reach or not for them. They say the benefits could help raise a population steeped in poverty and revitalize one of the nation's poorest cities.

"I really believe this is a game-changing moment," Gordon said when the bid was announced last year. "I think this is the legacy we can leave for kids in Cleveland for decades to come."

If Cleveland becomes a Say Yes community, it will join chapters in Buffalo and Syracuse, N.Y., and Guilford County, N.C.
The partners are raising money for a scholarship endowment and will set scholarship criteria. The national Say Yes organization would contribute $15 million, not for scholarships, but to create the governing structure and help organize some services.
The partners also are mapping services that would be provided in schools and the community to bolster students and their families.
Scholarships could be used at public colleges and universities in Ohio and about 100 private institutions across the country.
Have a story idea for the CMSD News Bureau? Email it to newstips@clevelandmetroschools.org.