Return to Headlines
CSU professor joins school board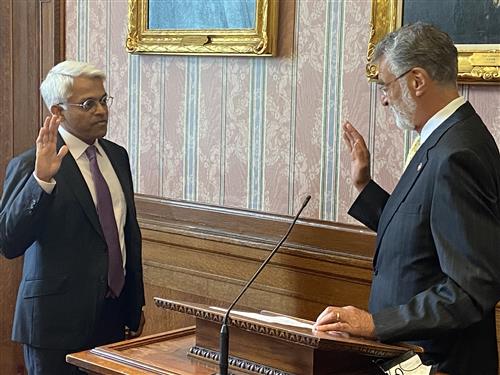 CMSD NEWS BUREAU
7/1/2021
The newest member of the Cleveland Board of Education left a mark on CMSD long before he took office.
Nigamanth Sridhar, a professor of computer science at Cleveland State University, was sworn in Thursday at City Hall. Mayor Frank G. Jackson administered the oath to Sridhar and three board members reappointed to new terms: Chair Anne E. Bingham, Vice Chair Robert M. Heard Sr. and Lisa Thomas.
For 17 years, Sridhar has taught and conducted research in computer science and software engineering at Cleveland State. He also served as dean of the CSU College of Graduate Studies from 2017 to 2020.
He has been part of the "CS for All" movement, started from scratch about eight years ago with the goal of giving every CMSD student, kindergarten through 12th grade, access to computer science. With half of the high schools now providing at least one course in the subject, and several elementary and middle schools offering opportunities, the District's program ranks in the top quartile of districts its size nationwide.
Sridhar has aided the expansion by providing professional development for teachers and securing grants. He was also a founding member of the advisory board at CMSD's John Marshall School of Information Technology, which was the first public high school in Ohio focused on computer science when it opened in 2015.
Now that he is a school board member, Sridhar's perspective will broaden beyond technology. He said he wants to ensure equity in programming and supports throughout the District.
He and his wife live in Cleveland's Detroit Shoreway neighborhood with their daughter, who is a CMSD student.
Under state law, Cleveland's mayor appoints the nine members of the District's school board after a committee vets and recommends applicants.
The board members sworn in Thursday were appointed for four-year terms that expire on June 30, 2025. Board members serve without pay.
Jackson is leaving office after 16 years. He reminded his final appointees that voters have supported the District with levies critical to carrying out The Cleveland Plan and a bond issue needed to finish a construction and renovation program.
"All with the expectation that we will deliver a quality education," he said. "We have a duty and obligation to meet that commitment."