Return to Headlines
Vol. 1: Every Student Succeeds Act
The Every Student Succeeds Act:
ESSA v. NCLB, What are the Differences?
In the table shown, a comparison can help non-practitioners understand the complex pieces of the Education Law to support greater understanding and advocacy for families making quality school choices.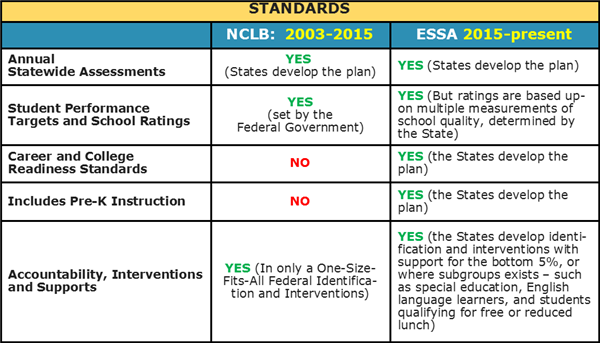 As the new law of Every Student Succeeds Act (ESSA) attempts to put the State Department of Education back into the driver's seat, it is imperative that parents, community members, practitioners and legislators are up-to-date on these policy changes and advocate for quality schools in each city of the State of Ohio. As The State will be creating the standards and assessments it is our goal to ensure learning standards that are rigorous and provide opportunities for every child in Cleveland to graduate prepared for college or a career path. regardless of zip code, We are also committed to advocating transparency and equity regarding the State's Report Card to support parents' quality choices and to recognize student growth as a measure for improvement.

The plans for the rollout of this law are being made this year with full implementation to take place for the 2017-2018 school year. Cleveland Schools are committed to offering high-quality classrooms for all children and will monitor and report the progress of these provisions so that all Cleveland families have opportunities to support their scholars.
Who are the Stakeholders in ESSA, and what is their role?
Governor Kasich
ROLE in ESSA:
Makes the State Budget
Governs Ohio Department of Education
Appoints members of the State School Board
Ohio General Assembly including the Cleveland Delegation
ROLE in ESSA: Create and Pass Legislation; Modify and Pass State Budget
State Senator Sandra Williams - District 21
State Senator Mike Skindell - District 23
State Representative Kent Smith - District 8
State Representative Janine Boyd - District 9
State Representative Bill Patmon - District 10
State Representative Stephanie Howse - District 11
State Representative John Barnes - District 12
State Representative Nickie Antonio - Distict 13
State Representative Martin J Sweeney - District 14
Ohio Department of Education
ROLE in ESSA: Develop a State Plan to follow the Federal Guidelines for all public and charter schools in Ohio
(Newly Selected) State Superintendent: Paolo DeMaria
Ohio School Board/Cleveland Delegate
ROLE in ESSA: Hear and vote on policies regarding Education Influence Law Makers and Represent Citizens
Cleveland Delegate: Mary Rose Oakar

Next Up: A closer look at Student Growth Measures in the State Ohio
"What they are and what they should be!"