Return to Headlines
First Say Yes recipients graduating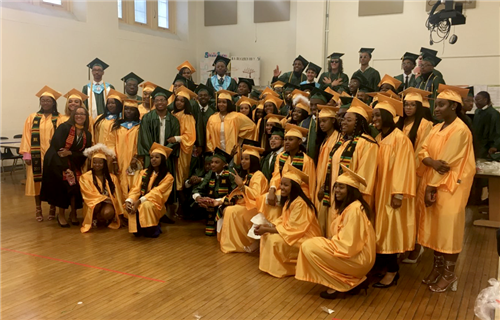 CMSD NEWS BUREAU
5/17/2019
CMSD is entering another graduation season, but this season is unlike those that went before it.
The Class of 2019 is the first whose graduates can qualify for Say Yes to Education scholarships, which cover gaps in tuition after deducting federal and state aid.
When Cleveland was named the nation's fourth Say Yes chapter in January, CEO Eric Gordon and other community leaders called it a game changer for a city with one of the highest rates of child poverty in the country.
Mario Wilson will graduate from the Cleveland School of Science and Medicine on May 24. He said that when he heard about Say Yes, a burden was lifted from his shoulders.
"Now I can focus on school a bit more, rather than worry so much about how to pay for college," said Mario, who plans to study neuroscience and human biology at Colorado College in Colorado Springs.
Cynthia Dalveren, head counselor at Max S. Hayes High School, traveled with all of the school's seniors to Cuyahoga Community College so they could take a placement test and apply.
Dalveren said the enrollment process was unfamiliar to many who are new to this country or are the first in their families to pursue postsecondary education. She added that the class, in general, needed time to grasp the importance of this new opportunity.
"I don't think they really believed and thought this was possible," she said. "When we began to fill out the Say Yes applications, they got it. It was a big deal."
About 2,000 seniors will graduate from CMSD high schools in commencements that stretch through June 21. The first graduations were being held this weekend: John Adams, Max Hayes and New Tech West on Friday, Cleveland Early College High School, Cleveland School of Architecture and Design and the three schools at the John Marshall Campus on Saturday and Ginn Academy and Glenville on Sunday.
The seniors have received $15 million in scholarships, not counting the money from Say Yes.
About 1,900 of the seniors have completed the Say Yes scholarship application, and nearly 1,000 have taken the remaining steps necessary to get the scholarships, like filling out the Free Application for Federal Student Aid.
Say Yes helps pay for tuition at public colleges, universities and Pell-eligible certificate and training programs throughout Ohio and at more than 100 private institutions across the country. The program also will provide support services that help students and families overcome barriers to success.
Starting with the Class of 2023, students must live in the District for all four years and remain continuously enrolled at CMSD or partnering high school until graduation.
For more information on Say Yes, go to sayyescleveland.org