Return to Headlines
Couple say 'I do,' ask guests to 'Say Yes'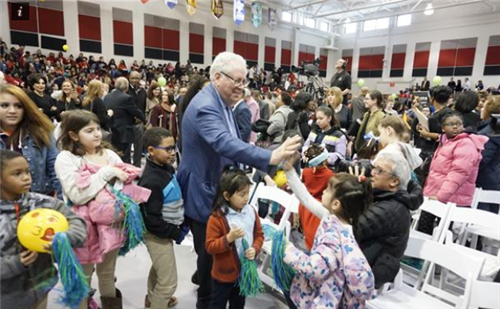 Say Yes to Education founder George Weiss celebrates with students after revealing that Cleveland had been named the fourth U.S. affiliate of Say Yes. The announcement was made Jan. 18 at CMSD's John Marshall Campus.
CMSD NEWS BUREAU
6/18/2019
Anne Priemer and Chris Jenkins are saying "I do" and have asked guests at their celebration to "Say Yes" – as in Say Yes to Education.
Priemer, who counsels and troubleshoots for principals in a network of CMSD schools, and Jenkins will get married Thursday in New York City. They will celebrate with about 100 friends and relatives on Saturday at the Cleveland Restoration Society.
Instead of gifts, the couple's invitations encouraged guests to donate to Say Yes Cleveland, the newest affiliate of Say Yes to Education. Say Yes Cleveland provides postsecondary tuition scholarships to eligible graduates of CMSD and partnering charter high schools and will align community services that help the students and their families overcome barriers to success.
"I'm an urban educator and believe strongly in what Say Yes is doing for kids and what it can do for the city," said Priemer, who also plans to speak in support of Say Yes at the gathering. "I wanted a great platform to communicate that message to more people."
Priemer said Jenkins, associate dean for academic support at the Oberlin Conservatory of Music, also has a background in urban education and embraced the idea. "He was like, 'I love it. Let's do it.'" she said.
Diane Downing, Say Yes Cleveland's executive director, praised the couple for "generous, creative support."
"We're extremely grateful to Anne and Chris," she said. "I think their commitment to our students and our city can be an example for others, because it reminds us that Say Yes Cleveland is a true community effort that we can all help support."
Priemer served two years as principal at CMSD's Oliver H. Perry School, then left for a brief time as vice principal at a Cleveland parochial school. After deciding that public education was her true calling, she returned to the District this year to become what is known as an action team coach.
Community wraparound services, like after-school and summer enrichment programs and legal and mental health assistance, are key to the Say Yes strategy. Through her work in Cleveland, a city with one of the nation's highest rates of child poverty, Priemer knows that kind of support can have a significant impact.
"It's like an entire community wrapping its arms around a school and providing services for the whole child, the whole family," she said. "That's a total game changer."
Say Yes Cleveland scholarships pay up to the full cost of tuition, minus federal and state aid, to public colleges and universities and Pell-eligible trade or industry certificate programs in Ohio. The scholarships also may be used at more than 100 private colleges and universities across the country.
Recipients must live in the Cleveland school district and graduate from a CMSD or partnering charter high school. Beginning with this year's incoming ninth-graders, students must meet both of those criteria from the start of high school until graduation to qualify.
Community leaders have raised nearly $92 million of the $125 million needed for an endowment that is designed to last 25 years.
For more information or to donate, go to Sayyescleveland.org.